Arsenal manager Arsene Wenger defends Per Mertesacker and Olivier Giroud
Arsene Wenger has praised Per Mertesacker and backed Olivier Giroud to build on an impressive first season at Arsenal.
Last Updated: 20/04/13 11:42am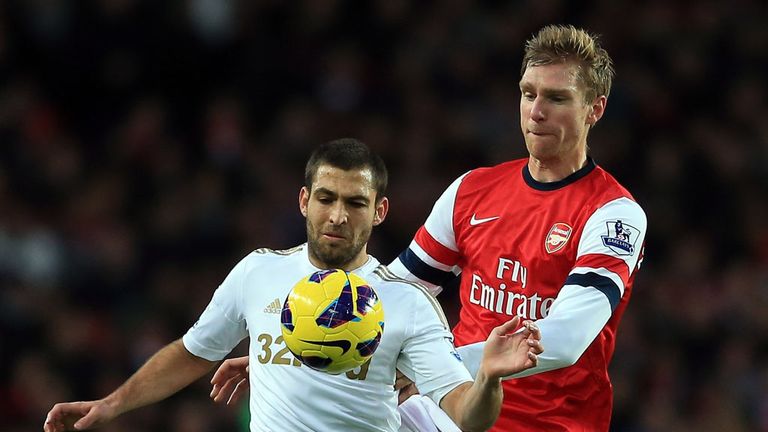 Both players have faced criticism this term but Wenger has been satisfied with the contribution they have made to help the Gunners in their bid for a top-four finish.
He admits Mertesacker may not be as stylish as fellow defenders Thomas Vermaelen and Laurent Koscielny, but says he is an important player.
Wenger explained: "He combines well with both Vermaelen and Koscielny. They are good partnerships. He is a bit more 'positional play'.
"I have three good centre-backs. I can't be wrong when I make a decision, because all three deserve to play.
"Maybe he is less elegant and the visual impression is less pleasing, but he is efficient and intelligent."
Giroud squandered a couple of good chances in a midweek goalless draw with Everton and has struggled to win over the doubters in his first season in the Premier League after arriving from Montpellier, but Wenger feels he deserves more credit and has the ability to improve next term.
The Arsenal manager said: "He gave a lot until now and for his first season he is doing extremely well because he has a fantastic attitude, a positive mind.
"He gives us another dimension with the physical challenges in the air. He has scored 17 goals in all competitions, 11 in the league - for a first season that is quite good.
"He has good physical potential, Olivier. He wants to play every single game, he has a good basic stamina and he can absorb the games.
"He can absorb the body-to-body contact, because he's a strong guy. I think you will see more from him next season, and there's a lot more to come from him."
Wenger added: "He is very extrovert and has a positive nature. He wants to do well - he is desperate to do well - and is not the one who hides after.
"He stands up for what he has done and I feel he deals quite well with that."