Arsene Wenger feels Robin van Persie's age counted against Arsenal
Arsene Wenger says Robin van Persie's age meant he was more likely to leave the longer Arsenal's trophy drought went on.
Last Updated: 28/04/13 3:15pm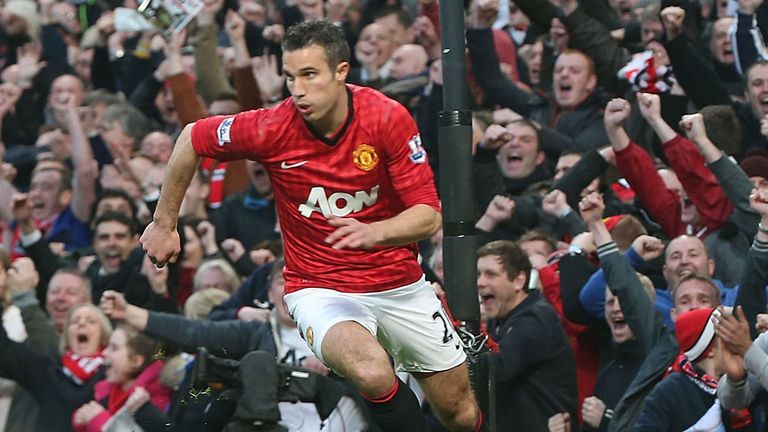 Former skipper Van Persie is in line for a hot reception in what will be his first return to Arsenal on Sunday since a controversial £24million summer move to Manchester United.
Some disgruntled Arsenal fans are said to be ready to turn their backs in protest when the teams come out from the tunnel for a guard of honour to mark United's achievement in securing a 20th championship.
Wenger admits it was "one of the hardest decisions" to sell Van Persie - who netted a hat-trick which beat Aston Villa 3-0 at Old Trafford on Monday night to claim the title - rather than look to hold him to the final year of his contract.
The Arsenal manager, though, can understand the desire of the Holland forward to look to claim success elsewhere rather than continuing to wait in hope for Arsenal to finally come good in 2013.
Wenger said: "Robin arrived at the age of 29 and thought 'can we win the championship here or do I have to more chances to win it somewhere else?'
"There is a kind of timescale like for a woman who has no baby at 39, she starts to think, 'I have not much time left now'."
The manager continued: "It is difficult when the player does not want to be here, to force him to be here and know that at the end of the season the club does not get anything with knowing that he might not contribute as well, so you are twice a loser.
"We have lost some other big players like Thierry Henry, Patrick Vieira, but they had won with the club and they were around 30 or 31.
"Robin could help us to win because we haven't won for a few years. That he left before that was frustrating for us."
Underrated
While Wenger always knew his long-time talisman would have a major say in the outcome of the championship, he believes the industry of United midfielder Michael Carrick - who like Van Persie has been shortlisted for Sunday's Professional Footballers' Association Player of the Year award - must be recognised.
"I think Carrick is an underrated player in England. Sometimes not only should the goalscorer be rewarded, but the real players in the heart of the game. Carrick, for me, deserves it," said Wenger.
"I would choose Carrick as Robin had it (FWA Footballer of the Year) last season. Give it to somebody different.
"Carrick is a quality passer. He could play in Barcelona. He would be perfectly suited to their game.
"He has a good vision and an intelligent player and it is for what he has achieved in his whole career as well.
"It is this year or never for him. Just because he is nearly 32 years old and after they go down."