Arsenal goalkeeper Wojciech Szczesny questions Tottenham's quality
Arsenal goalkeeper Wojciech Szczesny has criticised arch-rivals Tottenham as the race for fourth heats up.
Last Updated: 06/05/13 4:16pm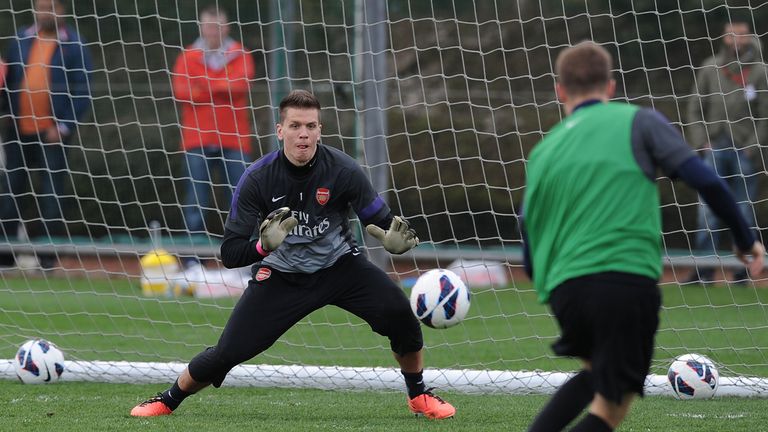 Spurs can push the Gunners down to fifth place by winning their game in hand against third-placed Chelsea on Wednesday - but Szczesny believes the quality of Andre Villas-Boas' squad simply isn't high enough.
The Pole, whose late save secured a 1-0 win at QPR on Saturday, told Arsenal Player: "If we win our next two games it will be enough because either Chelsea or Spurs will drop points because they play each other.
"If you look at Chelsea's fixtures, they have Tottenham and Everton left and they won't be easy games. And Tottenham do not have enough quality, so there you go...
"I would settle for another two 1-0 wins in the rest of the season and a place in the top three.
"Even if we have games like the QPR one, it might have been boring at times, but we couldn't care less at this time. We just got the three points.
"Hopefully it will be back to the old days and hopefully we will get back to winning trophies as well."
The Gunners host Wigan next Tuesday before travelling to face Newcastle in their final game of the season.
Credit
Arsenal would be joint fifth with Spurs had the Pole not denied Loic Remy with an excellent save in the dying stages of Saturday evening's London derby.
The save drew high praise from Wenger, who may have Lukasz Fabianski available for Sunday's game at Wigan, but Szczesny played down his contribution towards the win.
"I don't think it was a great save," he said. "I am not getting too excited, it's about the team's defending.
"It's not just the two centre-backs, it's not just the goalkeeper, it's the whole team. A lot of credit has to go to (Arsenal assistant) Steve Bould for his work."