Arsene Wenger says rotation of world-class managers is like 'game of musical chairs'
Arsene Wenger says the rotation of world-class managers is like a "game of musical chairs".
Last Updated: 16/05/13 3:51pm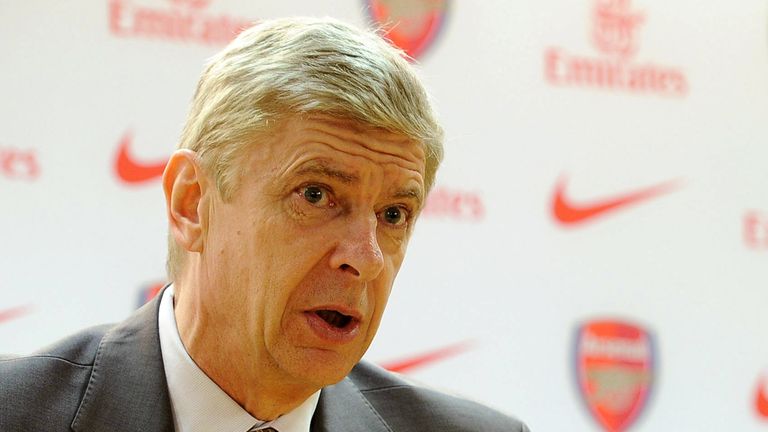 Wenger took charge at Highbury in 1996, and following the retirement of Sir Alex Ferguson, next season he will be the longest-serving manager in the Premier League.
The Frenchman's existing deal is due to expire in 2014, and over recent months has been linked with possible summer switches to Paris Saint Germain and Real Madrid.
And while the Arsenal boss maintains he will see out his contract at the Emirates, he said he is prepared for another summer of rotation.
Wenger said: "The rumours about my future? It does not bother me, it is part of the interest of the footballing public. You have to live with it and try to educate people.
"I answered this question several times by saying that I have always respected my contract and I will continue to do so.
"There will undoubtedly be a rotation of coaches, with a game of musical chairs.
"It concerns a lot of people but it is a rotation with respect to big-name coaches, so no matter where they go, there will always be great coaches everywhere."
The Gunners' 4-1 win over Wigan on Tuesday set them up for another shot at Champions League qualification, while confirming the FA Cup winners' relegation.
And Wenger's men head to Newcastle on Sunday, with a depleted team, just one point ahead of north London rivals Tottenham, and two behind Europa League champions Chelsea.
"Honestly, (Mikel) Arteta's chances of being available are minimal. I have to be realistic and prepare for another solution," Wenger said.
"(Jack) Wilshere is an option, yes. We will monitor him until Sunday and I will make a decision very late over what I will do."