Premier League: Manchester United top TV earners with record £60.8million
Manchester United earned a record £60.8million in Premier League TV money after winning the title this season.
Last Updated: 21/05/13 12:12pm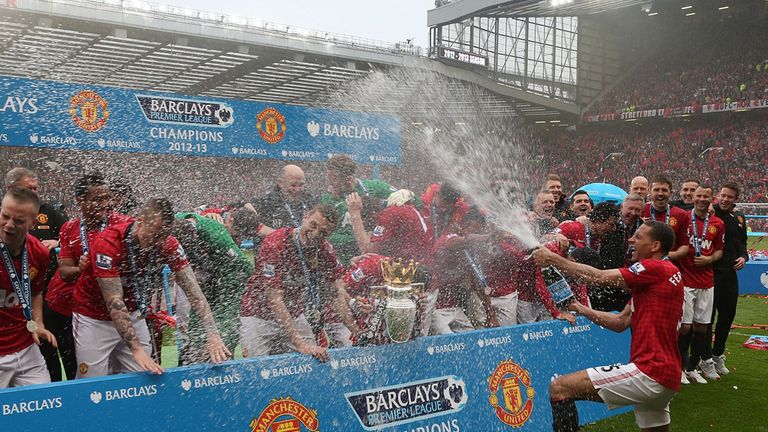 The Premier League distributes its TV money in a way that sees half of the total cash from the domestic deals divided equally between the member clubs, and all of the overseas broadcasting income also split equally.
A further 25% of domestic TV income is split as merit money depending where each club finishes in the final league table, and the final 25% paid in 'facility fees' for each time a club's matches are shown on television in the UK.
For that reason, Arsenal and Tottenham both earned more than Chelsea despite finishing below their capital rivals in the table because both the north London sides appeared in more live TV games.
Under the 2010-13 deal, which expired this season, each club received a £13.8million equal share each season plus £18.9million from overseas rights.
Clubs were further guaranteed a minimum of £5.78million for live TV and highlights appearances.
Manchester United earned the most from these facility fees, totalling £12.9million from 25 live appearances.
The three clubs relegated from the top flight earned the least amount, with Wigan Athletic getting £40.8m, Reading £40m and Queens Park Rangers £39.8m.
Some £88million was paid out in parachute payments to clubs relegated over the last three seasons.
TV revenue totals:
Man Utd £60.8m, Man City £58.1m, Arsenal £57.1m, Tottenham £55.8m, Chelsea £55m, Liverpool £54.8m, Everton £51.7m, West Ham £48.7m, West Brom £48.3m, Swansea £47.6m, Norwich £46.1m, Fulham £45.3m, Newcastle £45.1m, Aston Villa £44.9m, Stoke £44.5m, Southampton £43.8m, Sunderland £43.4m, Wigan £40.8m, Reading £40m, QPR £39.8m.