Williams v Vermaelen
Thomas Vermaelen began the season by being awarded the Arsenal captaincy and ended it having been axed from the team. Despite a strong reputation that has already seen Vermaelen linked with a host of top clubs, Adam Bate can see the wisdom of bringing in Ashley Williams as a replacement.
Last Updated: 28/05/13 3:06pm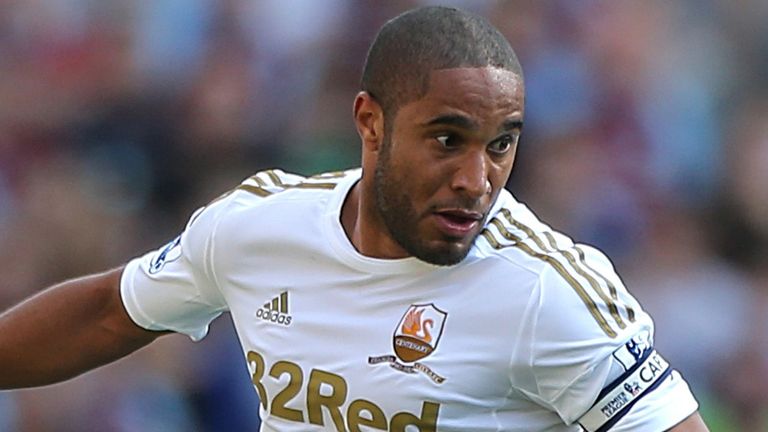 It is perhaps understandable if Arsenal supporters are underwhelmed by speculation linking Ashley Williams with the club as a replacement for Thomas Vermaelen. The fact that Manchester United and Barcelona are among the clubs reportedly keen to take the Gunners skipper is enough to make any manager question whether their assessment of the player is an accurate one. Especially when you're looking to bring in an older defender who was playing fourth-tier football as recently as 2008. But there are very good reasons why this would be a swap that Arsene Wenger might not regret.
Firstly, the rise of Williams has been remarkable. The Wales captain has now enjoyed two fine seasons in the Premier League and his national team boss neatly sums up some of the reasons for his success. "If I was manager at a top-four club, I'd have no qualms about trying to sign Ashley Williams," Chris Coleman told the South Wales Evening Post last week. "He's certainly one of the best defenders I've had a chance to work with. I think he's got a great personality and a great mentality towards football. He didn't come through an academy in the Premier League so he's never been spoiled."
Meanwhile, Vermaelen's career is stalling if not spoilt. Despite being easy on the eye with a quality left foot and the ability to grab headlines with his goalscoring contributions, there have long been question marks over his tendency to charge out of the backline and create gaps that could be exploited by the opposition. At the age of 27 and the club captain, these errors in decision-making can no longer be dismissed as impetuous acts of exuberance that will be overcome. Instead they indicate a fundamental flaw in his approach to defending.
Exposed
The 2-1 defeat to rivals Tottenham in March was surely Vermaelen's nadir as Arsenal's high-line was exposed with alarming regularity. While Nacho Monreal was ostensibly to blame, Sky Sports pundit Gary Neville identified another culprit. "As a centre-back you are controlling the line and the left-back is looking across," Neville explained on Monday Night Football. "Vermaelen moves up and then moves back, and I think Monreal is guessing. Monreal was at fault for the two goals but I had great sympathy for him because I think he was guessing at times about what Vermaelen was going to do."
This game appears to have been a turning point for Wenger. The Belgium international has started just one game since - a home fixture against Norwich that looked like ending in defeat before a late turnaround in the final five minutes. Per Mertesacker has usurped Vermaelen in the first-choice starting line-up alongside Laurent Koscielny and results have improved dramatically. Indeed, Arsenal were unbeaten in the 13 Premier League games that Vermaelen did not start this season and conceded just five goals in those matches.
Thomas Vermaelen effect at Arsenal
 
 
 
PL 2012/13
Won
Drawn
Lost
With Vermaelen starting
12
6
7
Without Vermaelen starting
9
4
0
Partnerships are key all over a football pitch and it is clear that the respective strengths of Mertesacker and Koscielny complement each other well. Mertesacker is an intelligent player with good positional awareness and Koscielny is quick enough to cover for what the tall German lacks in pace. The France international can concentrate on sweeping up while his partner focuses on the aerial duels and headed clearances - areas in which he ranks top among the Arsenal defenders.
Indeed, Mertesacker has an aerial duel win percentage of 68.2 per cent - significantly better than Vermaelen, who comes in down at 55.4 per cent in the same category. That's also below Koscielny and Williams, perhaps going some way to explaining why Arsenal conceded 1.28 goals per game with Vermaelen but just 0.28 goals in games where the Belgian was absent from the line-up. It was enough to convince Wenger of the need for a more dominant figure at the heart of his defence.
Williams appears to fit the bill. The 28-year-old topped the Premier League for blocks and clearances this season, while no centre-back in the division managed as many interceptions. The only measurable facet of defending in which Vermaelen matched Williams was tackling with 43 each during the season - and that should come as little surprise. As tactical expert Michael Cox notes in The Guardian: "He flies up the pitch towards his man and leaves space in behind."
Ashley Williams v Thomas Vermaelen - Defending
 
 
PL 2012/13
Williams
Vermaelen
Tackles
43
43
Blocks
53
19
Interceptions
110
47
Clearances
381
131
Of course, there is always a possibility that defenders outside the top four will boast impressive statistics in these areas for the obvious reason that they have more defending to do. However, one of the reasons why Williams could be such an attractive prospect for the top teams is that Swansea's style of play should make any transition a relatively straightforward one. Adapting to a passing game is hardly tricky when Swansea rank third for short passes per game with Arsenal top of that particularly table.
Comfortable
Clearly, Williams is used to having the ball at his feet just as he would with Arsenal and the statistics show he is comfortable in the role as his passing compares favourably with the defenders at the Emirates Stadium. Williams has the same pass completion rate of 86.3 per cent as Vermaelen, having made over 600 more passes than his Gunners counterpart during the Premier League season. In fact, a long-pass completion rate of 64.1 per cent compared to Vermaelen's 55.3 per cent arguably suggests a greater range of passing than the Belgian.
Arsenal supporters may be reluctant to accept the signing of a burly British defender from the Premier League, particularly when there is the prospect of losing their skipper to Manchester United for a second consecutive season. But perhaps the fans should accept that looks can be deceiving. Mertesacker has gone some way to proving them wrong. The statistics suggest that Williams could be an unexpected upgrade for Arsenal as well.