Thierry Henry says Arsenal should not settle for Champions League qualification
Thierry Henry is urging Arsenal to target the Premier League title and not settle for a place in the Champions League.
By Tim Oscroft
Last Updated: 29/05/13 12:27pm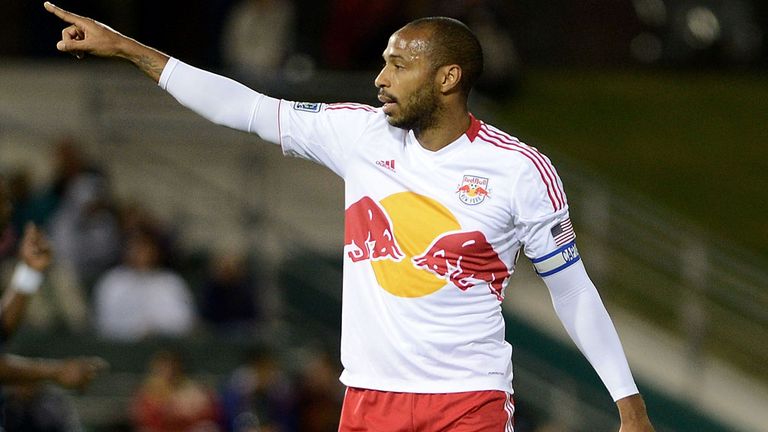 The former team-mates of Henry, now with the New York Red Bulls, have been criticised in some quarters for their celebrations after a win at Newcastle that ensured they would finish fourth in the table.
However Henry, who won two titles while at Arsenal, hopes that the Gunners were celebrating qualifying for Europe's elite competition at the expense of north London rivals Tottenham.
"Putting Tottenham out of the top four, and I really do hope that's what they were celebrating about, that's the only thing you can celebrate," said the 35-year-old striker in an exclusive interview with Sky Sports.
"If you're an Arsenal man through and through that's like winning something.
"I said it when we did to them in 2006. It wasn't the fact that we qualified for the Champions League, it was because we kicked them out of it and we went in.
"Yes, they finished in the top four but there is only one champion - Man United. I'm a competitor so that's the only thing I will remember from the season - Man United won the league. You're going to have to do better than what United did this year.
"Chelsea I'm sure are thinking about the same thing right now, or Man City. Tottenham are going to think, 'how can we come back into the top four?' All the teams are going to be thinking, 'how can we win this title?'"
Henry is hoping that Arsenal manager Arsene Wenger will remain at the club for many years to come, and concedes that his old club would be a strange place without the man who has been in charge since October 1996.
He said: "It's very difficult to see Arsenal playing, one day, without Arsene on the bench. It's going to be weird.
"I'd just love to have him there all the time, but we all know that's not going to happen. One day he's going to have to go, but it's going to be hard. He's not thinking of leaving."