Pressure game
Arsenal fans may be happy with talk of bigger transfer budgets, but what of Arsene Wenger? Daniel Storey argues that it simply increases the pressure on him. If the Frenchman spends big there will be no hiding behind the neatest spreadsheets in the top flight...
By Daniel Storey - @danielstorey85
Last Updated: 17/06/13 9:29am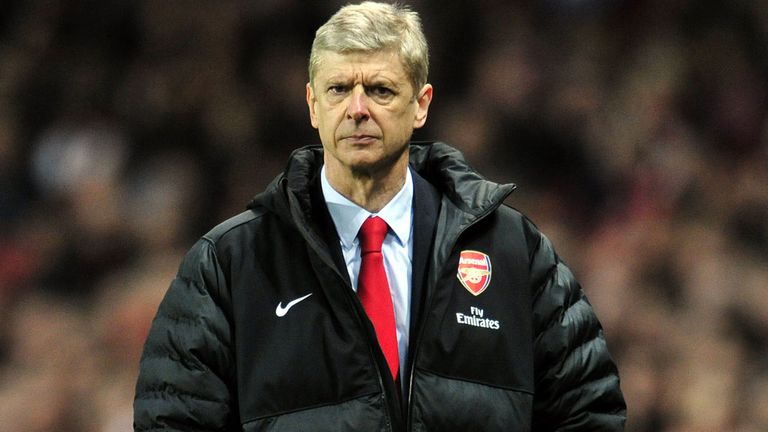 Recent quotes from Arsenal chief executive Ivan Gazidis provided something of a line in the sand for Gunners fans. When asked if the club could afford to spend £20m on a player and offer wages of £200,000 per week, his was a forthright riposte:
"Of course we could do that. We could do more than that. We have a certain amount of money which we have held in reserve. We also have new revenue streams coming on board and all of these things mean we can do some things which would excite you."
Gazidis may have acted rather nonchalantly to such numbers ('what, this old thing, I've had it ages') but when you examine the traditional ethos of the club, it hints at quite a shift. Arsenal's record transfer (difficult to pin-point amongst potential add-ons) still officially stands at the £13m paid for Sylvain Wiltord 13 years ago (although the deal for Andrey Arshavin in 2009 may have edged past that figure).
Such a value is extraordinarily low for a club of Arsenal's stature. Everton, Newcastle, Spurs and Villa have all spent more than £15m on a player. For those four clubs to have a record signing of higher value than a club with a history - and expected future - of challenging for the Premier League title and European trophies, is slightly bizarre.
Arsenal fans will presumably have been delighted (though slightly cynical) to learn of their club's new-found financial muscle, but it would be interesting to hear Arsene Wenger's thoughts on Arsenal's apparent ambition to start making landmark signings. Having never paid more than £13m for a player during his career, Gazidis is asking his manager to tread on fresh snow.
That is not to say that Wenger has not had money to spend at Arsenal - this has been no budget operation. The Frenchman has bought 23 players for more than £7million during his time at the club, but it would be inaccurate to say that the majority of these have been hugely successful. Jose Antonio Reyes, Andrey Arshavin, Gervinho, Sebastien Squillaci, Richard Wright, Francis Jeffers and Giovanni Van Bronckhorst could all be loosely labelled as flops, whilst the jury is probably still out on Olivier Giroud, Lukas Podolski and Thomas Vermaelen.
Rather than big-money signings, Wenger has instead forged his transfer legacy at Arsenal by unearthing the young gem or unpolished diamond, if you'll forgive the cliché. Cesc Fabregas, Patrick Vieira, Freddie Ljungberg, Nicolas Anelka and Robin van Persie would be considered amongst his greatest successes, all brought to north London aged 21 or younger and for less than £10million combined.
But there is a great deal more pressure heaped onto the success of one £20m player than two players at £10m each - that's just the way it is. At £20m-plus, signings become 'marquee', a word that simply heightens expectation.
As well as potentially taking Wenger out of his transfer market comfort zone, Gazidis' quotes also raise the stakes on his manager. After his original announcement, the chief executive reiterated just who was responsible for any additions to the squad: "Arsene has to believe they are top-class players who will add to the squad. Can I guarantee he will spend all of the money available to him? That depends on the talent."
Gazidis' discussion of budgets has hung Wenger out to dry. Whereas previously the manager could hide behind the veil that money was not available to him or was, at best, difficult to source, the kitty has now been explicitly revealed with more than two months of the transfer window remaining. Should Arsenal fail to recruit players deemed satisfactory (or even glamorous) enough to appease certain fans' demands, Gazidis can take one step back, hands raised and say: "It's not my fault guv, I told you in June that Arsene could spend."
That leaves Wenger in a difficult position. The pressure is on him to attract the 'marquee' player for 'marquee' money that supporters crave, and if he fails to do so, pessimism may once again surround the ending of the transfer window.
Furthermore, such a signing must almost immediately impress. If Arsenal are now a club with bigger budgets, the powers-that-be must be confident that their long-serving manager is the right man to spend it wisely. If Arsenal do not move forward this season, the club have the self-imposed justification to enforce a change.