Premier League: Arsenal's Theo Walcott ready to push on after tough year
Theo Walcott is keen to help Arsenal recapture the glory days after coming through a stressful period of his career.
Last Updated: 20/07/13 7:25pm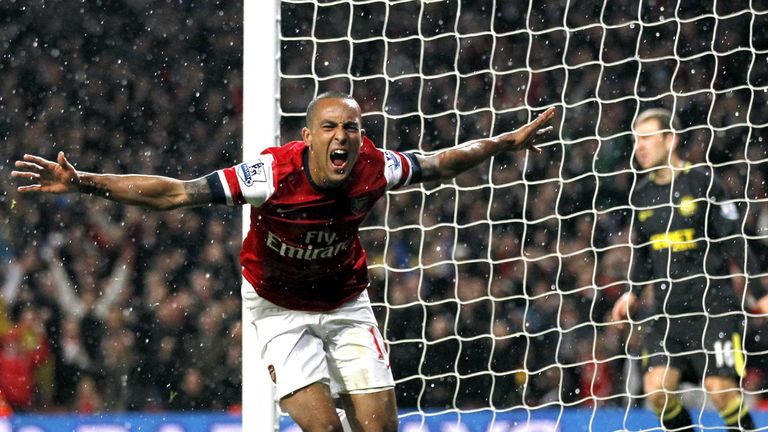 Walcott's future was the subject of intense speculation last season but he still produced some of his best form to end the campaign as the club's leading scorer.
And having put an end to the rumours by signing a new long-term contract at Emirates Stadium in January, Walcott is looking to go from strength to strength over the next 12 months.
"With all the pressure I had with the contract and all that side of things I was so happy with my form last season," he said in the Daily Mirror.
"I blocked that out because for me it was just about playing football, working hard for the team. I always knew where I wanted to be.
"The three weeks before the contract was sorted out were the most stressful and the most pressure I've ever had to cope with. That was very difficult. I got through it. It was a big weight off my shoulders.
"It was so difficult but I always knew where I wanted to be. It's all done and in the past and now I want to push on and help this club to where I believe we should be.
"I had my family and the best person to talk to is always the manager, who has been great to me, so I'm very happy that it got sorted. I'm sure the fans are as well because it would have been a lot of stress they would have gone through again thinking what's going to happen.
"Last season was definitely my best so far in an Arsenal shirt. I was top scorer for the club and not many people would have thought that at the start. But I always believed I could score goals."
Wilshere hope
Walcott is keen to repay Arsene Wenger for all the faith that has been shown in him over the years and believes Arsenal can push on to challenge for the Premier League title this season, although they must first concentrate on advancing to the group phase of the UEFA Champions League.
He said: "The Champions League qualifier is definitely something we've got to keep our eye on. We've always had a great run in the Champions League and we believe if we can beat Bayern Munich we can beat anyone. That's what we should be focusing on.
"Who knows who will come in, but we'll work on the squad we've got at this moment and I think we have a very strong squad. We have some great players and I always look forward to coming back to work.
"I want to repay the manager for the belief he has and the faith he shows when he brings in players at such a young age. He puts young players in there and just says: 'go and do your thing'."
Walcott also accepts that it is vital for Jack Wilshere to steer clear of injuries after a couple of difficult years for the midfielder.
He said: "It's so important for the club for Jack to stay fit. He gets everything ticking and makes everything sort of flow. I didn't really get to play with Jack at all last season so it's nice that he's back.
"He's had so many injury problems at such a young age and now we hope they've gone out the window.
"Without a doubt he's going to make our team better. He can spot anything when you're making your runs and we're definitely going to have a very good season together."