Transfer news: Wojciech Szczesny would welcome competition at Arsenal
Wojciech Szczesny says he would welcome added competition for places at Arsenal and has no intention of moving on.
Last Updated: 22/07/13 5:05pm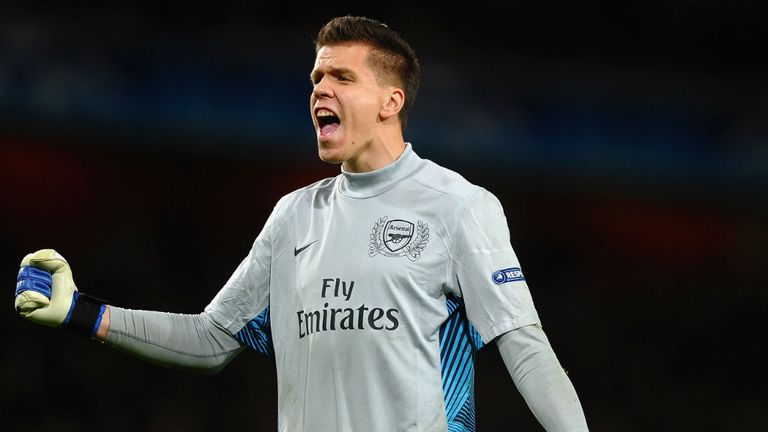 Arsene Wenger has been heavily linked with a number of goalkeepers during the summer transfer window, with Queens Park Rangers' Brazil international Julio Cesar reported to be a top target.
Were a shot-stopper to be brought on board, that would cast doubt over Szczesny's position as the Gunners' number one.
He started and ended last season as first-choice, but was ousted for a spell mid-season by Lukasz Fabianski.
Szczesny says he is prepared to accept that he will experience highs and lows, at just 23 years of age, and insists the arrival of another contender for a starting spot would make him even more determined to succeed - rather than leave him contemplating his future.
He said in The Guardian: "Even if the boss was to make a big signing in goal, I would do my very best to compete for the number one spot. I'd do my best whatever my position.
"The club is in my heart and I wouldn't be thinking about going elsewhere. My head is pretty clear when it comes to that.
"You have to deal with the competition. I think that the competition from Lukasz when he was fit was pretty tough and I enjoyed it. It can only bring the best out of me.
"My confidence never gets crushed. Whatever happens, my attitude doesn't change. I still try my best in training. I want to make sure I'm in the best shape possible.
"Whether someone comes in, it's not my decision and it won't affect me in any way. There is the same talk every year. I think the manager has shown enough faith in me to make me feel confident in my own abilities. So it doesn't affect me."
Attitude
On being dropped for a five-game spell from mid-March in 2012/13, only to then bounce back before the end of the season, Szczesny added: "I'm still a young goalkeeper so I'm going to have my ups and downs.
"There's not a single goalkeeper in the world that goes through a season without a little dip. You wish that any dip is not long and big but you have to learn how to deal with disappointments and it never really affected my attitude.
"You'd hope that I could go through the whole season the way I finished last season, but you cannot go through a season without any mistakes so it's how you deal with it and I think I've learned how to deal with mistakes. I'm hoping there will be less and less with each season.
"You can play for a smaller club, make a mistake and no-one will really highlight it but when you play for a big club, whatever you do is going to be in the papers. People are going to question you but it's not really a problem for me."