Rafa Benitez happy to sign Gonzalo Higuain for Napoli after Arsenal interest
Rafa Benitez thought it would be difficult for Napoli to sign Gonzalo Higuain due to Arsenal's interest in the striker.
Last Updated: 03/08/13 10:47am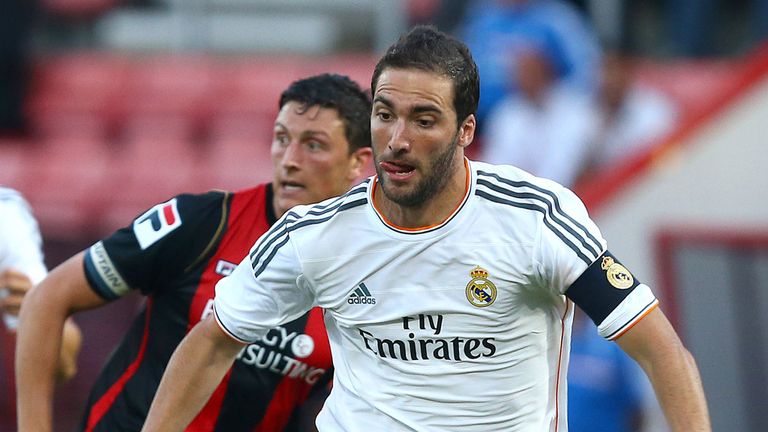 Higuain recently completed a £34.5million move to Napoli from Real Madrid and he has been signed to replace Edinson Cavani, who has joined Paris St Germain.
Arsenal were also strongly linked with a move for Higuain, with reports claiming the Premier League club had made an offer and were given permission to talk to the Argentina international.
However, Napoli eventually stepped in to snap up the 25-year-old and Benitez is delighted to have added Higuain to his squad.
"We had an idea he was one of our targets, but we thought it was difficult because of all the comments about Arsenal," said Benitez ahead of Saturday's Emirates Cup match against Arsenal.
"In terms of the decision to do the deal, it was quite quick. It was an easy decision for me. He's a great player.
"I told the chairman that I liked the player, so the technical director and the chairman, they were quick and after we signed the player [I was] really pleased because he is a top class player."
Benitez also confirmed that Higuain will feature at some stage against Arsenal at Emirates Stadium, and Pepe Reina could also be involved.
The Napoli coach added: "I don't know how long [he will play] but I think that he has to play because he is training well, he is fine, but we'll have to manage it at the time."
Napoli president Aurelio De Laurentiis added on Twitter: "I am in London for the Emirates Cup. There will be a fantastic Arsenal-Napoli!
"The game will be hard-fought, the atmosphere electric. Rafa Benitez told me Higuain will play. Not from the start, but he will play."