Transfer news: Arsene Wenger stays quiet on Luis Suarez saga
Arsene Wenger refused to be drawn further on the Luis Suarez saga after watching his side fall 2-1 to Galatasaray.
Last Updated: 05/08/13 12:45am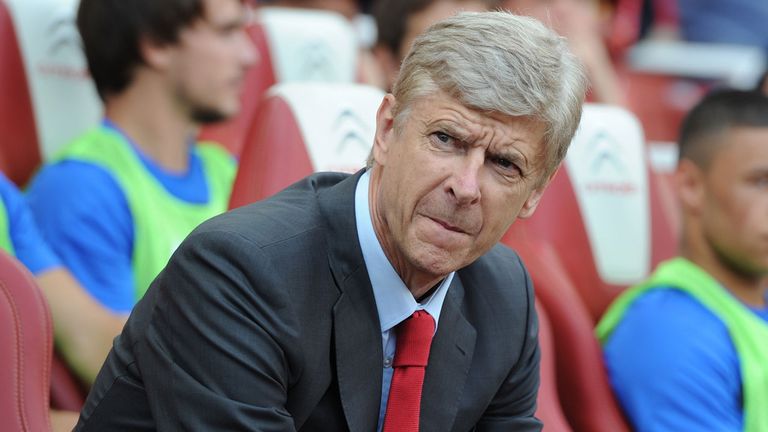 The Gunners were undone by old foe Didier Drogba with the Ivory Coast striker scoring twice in the last 12 minutes to win the trophy after Theo Walcott gave Wenger's men the lead.
Arsenal showed good form in patches on home soil, but it was transfer activity that dominated Wenger's post-match press conference - his only addition so far this summer is young French forward Yaya Sanogo.
Wenger insisted that Arsenal will not be drawn into a public auction for the Uruguay striker, although they are expected to increase the £40m-plus bid they have already made.
"We try to do it properly, but a transfer is always an agreement between three parties and we have always done that until now," Wenger said.
"Let's count first on what is here and if we can add something, we will do, but it is very difficult to predict if something will be sorted out before we play in the Champions League qualifier.
"I think we have enough quality to achieve it with the players we have in at the moment and if we can have some more in before then, it's even better.
"We just want to be ready. What is important for us is we have only 90 minutes now before we start the (Premier League) championship.
"It is important we recover a bit from the good days and we prepare properly for our next game which is against Manchester City in Helsinki, and then that we start strongly in the championship because that will have an influence on our performance in the Champions League.
"It is difficult, a stressful situation, but we did fight very hard to be in that situation and now it's time to take advantage of the fact we finished fourth and we have an opportunity to qualify. Of course it's always very tricky to qualify, but we have the experience of having done it before.
"Today we were in control, they didn't look dangerous, but we were not capable of maintaining physically that rhythm and control in the second half and we were punished for it. We were exhausted in the end, but it was a good preparation."