Brendan Rodgers takes swipe at Arsenal over Luis Suarez pursuit
Liverpool manager Brendan Rodgers has accused Arsenal of playing 'a game' as they pursue unsettled striker Luis Suarez.
Last Updated: 05/08/13 10:05am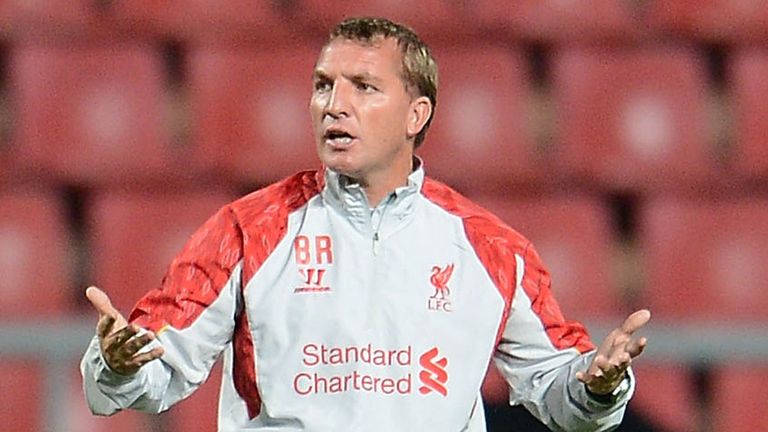 Gunners boss Arsene Wenger admitted he remains interested in the Uruguayan and the club recently bid £40m plus £1 in the hope of activating a clause in Suarez's contract.
This offer was rejected by Liverpool and Rodgers has yet again reiterated his determination to keep Suarez at Anfield.
But the Reds boss admits he was taken aback by Arsenal's attempts to lure away the player and believes the Londoners have resorted to gamesmanship.
"I've got to say I've always associated Arsenal as a club with class and so there was a wee bit of a game there," he said.
"For us, it's about moving on and doing our own work. There will come a point where they understand our position.
"Obviously they have an interest and they put that interest in with two bids which were nowhere near what the player is worth. That's within their right.
"There is a market in football for players but from us the message is constant: we do not want to sell."
Suarez's repeated disciplinary problems have disrupted his Liverpool career, but Rodgers insists the owners do not intend to cash-in on their prize asset.
"I'm extremely confident that Luis will be here [next season]," he said.
"The offers have come in as you would expect for one of the world's leading strikers but as time goes by I'm gaining more confidence because I have a chance to be with him on a day-to-day basis and he gets the chance to be around his team-mates.
"We're in total control of the situation as a club and that's how it will remain.
"The owners have been brilliant. If it was another club needing the money or desperate for the money it could have been a different story.
"But [owner] John Henry and Tom [Werner, chairman] have been first class through the whole process, so there are no arguments there and it gives you the confidence they are not in any hurry to sell because they understand we are trying to build here."