Transfer news: Luis Suarez pleads for move and says Liverpool are breaching his contract
Luis Suarez says he is prepared to go to the Premier League to force a move away from Liverpool this summer.
Last Updated: 07/08/13 5:42pm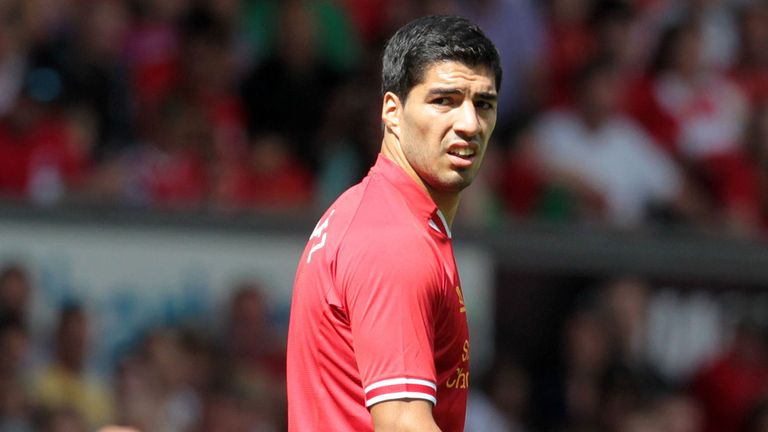 The striker - subject of two failed Arsenal bids last month - claims Liverpool are refusing to honour a clause in his contract allowing him to leave Anfield for £40m-plus if the club failed to qualify for this season's Champions League.
Suarez has so far stopped short of handing in an official transfer request and reported to the club's training ground on Wednesday morning, but the Uruguayan has now made it clear he intends to push through a move.
Arsenal remain the only club to have made an offer, and their second bid was just £1 over the £40m mark.
Suarez said: "Last year I had the opportunity to move to a big European club and I stayed on the understanding that, if we failed to qualify for the Champions League the following season, I'd be allowed to go.
"I gave absolutely everything last season but it was not enough to give us a top-four finish. Now all I want is for Liverpool to honour our agreement."
And Suarez says he will take further steps if the Reds continue to block his move to London.
"I have the club's word and we have the written contract and we are happy to take this to the Premier League for them to decide the case, but I do not want it to come to that," he said.
"I don't feel betrayed but the club promised me something a year ago, just as I promised them that I would stay and try everything possible to get us into the Champions League.
"They gave me their word a year ago and now I want them to honour that. And it is not just something verbal with the coach but something that is written in the contract. I'm not going to another club to hurt Liverpool."
Liverpool's supporters may argue they are entitled to more loyalty from Suarez, having supported him steadfastly despite the long bans he has received for racially abusing Patrice Evra of Manchester United and biting Chelsea's Branislav Ivanovic.
But Suarez said: "I got a great reception at the weekend and I am grateful. I don't think the supporters are angry, I think they understand a player when he has the ambition to triumph at the highest level.
"When you are at a club for as long as you are together you stick up for each other, but that does not give the club the right to go back on their commitment.
"I'm 26. I need to be playing in the Champions League. I waited one year and no one can say that I did not give everything possible with my team-mates last season to get us there.
"People may accuse me of showing a lack of loyalty but last season we told Liverpool there was interest from a top European club and they told me: 'We've got a new coach and we're going to push for the Champions League'.
"I spoke with (Liverpool boss) Brendan Rodgers several times and he told me: 'Stay another season, and you have my word that, if we don't make it, then I will personally make sure that you can leave'.
"Liverpool is a club with a reputation for doing things right. I just want them to abide by the promises made last season. Some of my team-mates say to me: 'We cannot understand that, if you have it signed, that you can't leave'."
Prior to Suarez's comments coming out, Rodgers reiterated on Tuesday evening that Liverpool's stance had not changed.
He said: "We've obviously had a couple of bids from one club that has been nowhere near the valuation. I repeat - nowhere near the valuation of what he is worth in this market. There's no change to that.
"We have no intention of selling one of the top players in the world to one of our rivals. The message is very clear: Luis Suarez is very much a Liverpool player.
"There's not even really a discussion point, unless someone comes within anywhere near the valuation of Luis. At this present time, that's not the case."