Transfer news: Arsenal could bring in upwards of three new players
Arsene Wenger says Arsenal remain keen to bring in new players before the transfer window closes.
Last Updated: 17/08/13 2:08pm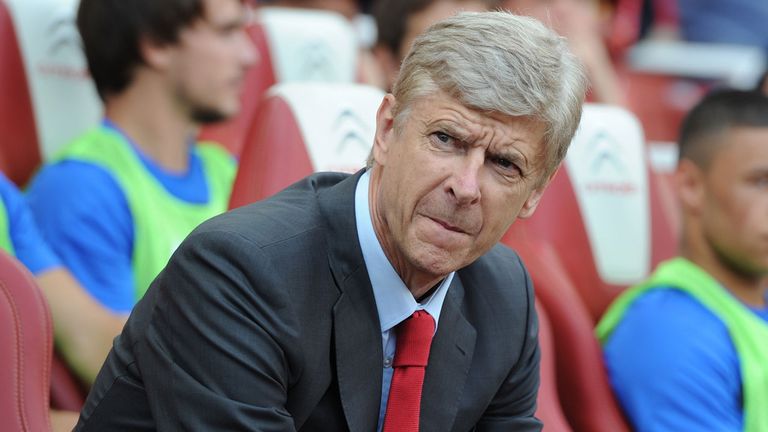 Speaking ahead of Arsenal's Premier League opener at home to Aston Villa on Saturday, Wenger said the Gunners could yet bring in upwards of three new players, although he would not be drawn on whether Luis Suarez of Liverpool remains a target.
"I don't disagree that we are a bit light at the moment," said Wenger.
"There are 18 days to go until the end of the transfer market and we are of course looking to strengthen our squad.
"We look more for quality than for numbers and the first request is to have the quality to play for Arsenal Football Club.
"Yes, we would like two or three players, if possible more, but we will not compromise on the quality of the players.
"I understand every frustration but what is important is the quality of what you do on the pitch, so let's not create a crisis from nothing."
Regarding Suarez, who Arsenal have had a bid rejected for, he added: "I don't want to come out on any specific name because that would not be right.
"To finalise any transfer you need the agreement of three parties. It is not easy, there are a shortage of top, top, top players who are available."
Mertesacker to lead Gunners
Turning to the Villa match, Wenger announced that Per Mertesacker will captain an Arsenal side who already have injury problems to contend with.
Wenger said: "(Thomas) Vermaelen is out, (Nacho) Monreal is out, (Mikel) Arteta will be out. Monreal will return soon, the others are a bit longer."
Arteta has a thigh injury and could be out for as long as six weeks.
Wenger is eager to make a good start to the season but is wary of Villa, particularly because they managed to retain striker Christian Benteke.
"Every football game is a massive excitement for me," said the boss. "And a good start is vital, especially when you play at home.
"Villa plan for the future and they plan long term. Benteke has qualities that you cannot lose over the summer and I think he can be more dangerous this year as well."