Arsenal's Alex Oxlade-Chamberlain could face lengthy spell on the sidelines
Arsenal are waiting to discover the full extent of the 'bad injury' suffered by Alex Oxlade-Chamberlain on Saturday.
Last Updated: 19/08/13 8:27am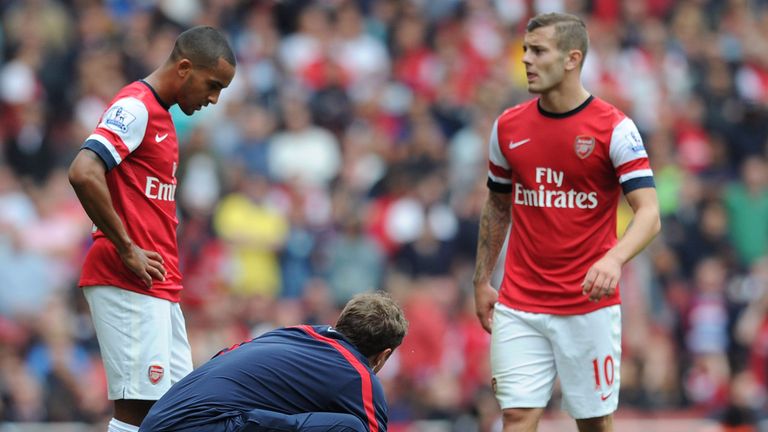 The England international came off worst following a nasty collision with Aston Villa's Antonio Luna on the opening day of the 2013/14 Premier League season.
He left Emirates Stadium on crutches after being forced from the field and it has been suggested that he is facing up to a lengthy spell on the sidelines.
If tests, which are due to take place on Monday, reveal knee ligament damage, Oxlade-Chamberlain could be out of action for several months.
His absence would come as a major blow to club and country, in what is an important year for both.
Arsenal are already without the likes of Bacary Sagna, Thomas Vermaelen and Mikel Arteta, while England have crucial 2014 World Cup qualifiers to come in September and October.
Arsenal manager Arsene Wenger is reluctant to speculate on how much of the season his 20-year-old midfielder will miss, but admits the outlook is far from bright.
The Frenchman said after a disappointing 3-1 reversal against Villa: "He is definitely out. A knee problem.
"We don't know how deep the problem is, but it's a bad injury."