Football Expert & Columnist
Jamie Carragher says Arsenal bid for Yohan Cabaye is a sign of panic
Sky Sports expert says Wenger should have done deals sooner
Last Updated: 20/08/13 10:27am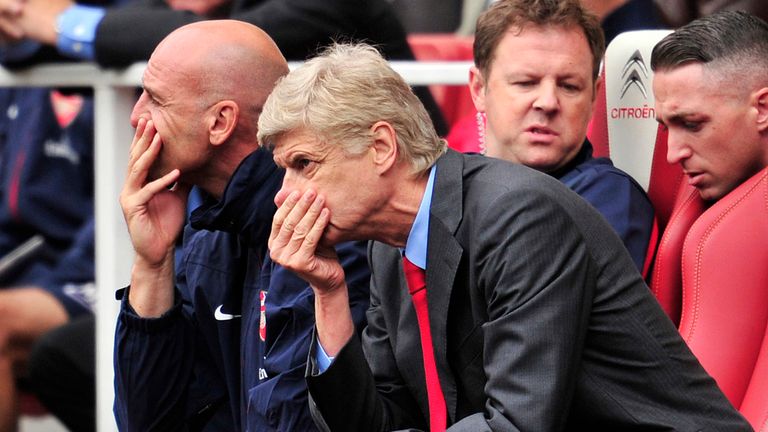 The North London club made a £10million offer for the Newcastle midfielder on Monday, less than 48 hours after their opening-day defeat to Aston Villa in front of a disgruntled crowd at the Emirates Stadium.
Despite promising to spend big at the start of the summer, Arsenal's only signing to date has been the free transfer of Yaya Sanogo from Auxerre and they have failed to land key targets such as Gonzalo Higuain, Luiz Gustavo and Luis Suarez.
And Sky Sports pundit Carragher says their bid for Cabaye, coming two weeks before the transfer window closes, is a sign of desperation from manager Wenger.
He told Monday Night Football: "If Cabaye was that important to Arsenal I think they'd have bought him by now. It feels to me like a panic.
"If Arsene Wenger was that impressed and wanted Cabaye that much, why not buy him two months ago? What are you waiting for?
"It feels like a couple of years ago when they brought Mikel Arteta, Per Mertesacker and Santos in late. Santos has been a disaster for them and Mertesacker is not for me, though Arteta's done ok. When you start panicking with transfers towards the end you obviously don't get what you want.
"I'm an ex Liverpool player with nothing to do with Arsenal but they frustrate me. I feel how the supporters are feeling."
Valuation
Newcastle immediately rejected Arsenal's bid for the player and Alan Pardew, who left Cabaye out of Monday night's 4-0 defeat to Manchester City, insisted that the offer was "not acceptable"
And Carragher criticised Arsene Wenger for being too thrifty with Arsenal's finances, especially when they have plenty of funds available.
He added: ""I look at Arsene Wenger and what was the bid for Cabaye? £10million? Are they going to sell for that?
"I think if Arsene Wenger has a valuation in his head he won't go above it. He'll never overspend and I look at Arsenal sometimes and think there's only one section of people at the club who are overspending - the supporters!
"They've got the highest season ticket prices in the league but the club won't overspend on a player. I just don't get it."