Arsenal forward Lukas Podolski to miss Tottenham derby with hamstring injury
Lukas Podolski will be out for three weeks after suffering a hamstring injury against Fenerbahce.
Last Updated: 28/08/13 7:43am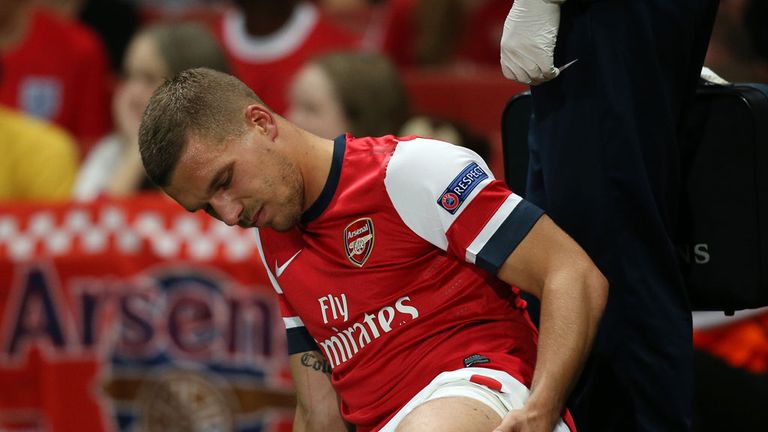 The Germany international pulled up moments after the restart at The Emirates on Tuesday following a burst down the left and was taken off the field on a stretcher.
The forward will now miss Sunday's north London derby against Tottenham and is expected to sit out a Premier League trip to Sunderland, as well as his country's World Cup qualifiers against Austria and the Faroe Islands.
"We paid a heavy price on the injury front because we lost Podolski," manager Arsene Wenger said after a victory that secured his side's place in the group stage for the 16th successive season.
"Podolski's definitely out for 21 days."
Aaron Ramsey, who scored both goals, also went off towards the end of a bruising encounter with a groin problem, while Jack Wilshere felt the force of several crunching tackles, but Wenger is optimistic both will be available to face Spurs.
"I don't know how bad Ramsey is. I don't know how Wilshere responds. We have to check that (Wednesday) morning," Wenger added.
"The two tackles on Wilshere were disappointing, but he looks all right. Jack should be all right for Sunday. I'm hopeful on Aaron as well.
"I took him off with three or four minutes to go, but I don't know how bad it is. He wanted to stay on."
Wenger revealed he had wanted to take Wilshere off following one meaty challenge late in the second half but revealed the England star was also determined to carry on.
"I would've played with 10 men," the Frenchman said. "We were 2-0 up, they had to score five goals in 10 minutes. Even with 10 men we could have avoided that."