Alex Oxlade-Chamberlain believes Arsenal can challenge for the title
Alex Oxlade-Chamberlain says there is a belief at Arsenal that they can challenge for the Premier League title.
Last Updated: 07/09/13 10:57am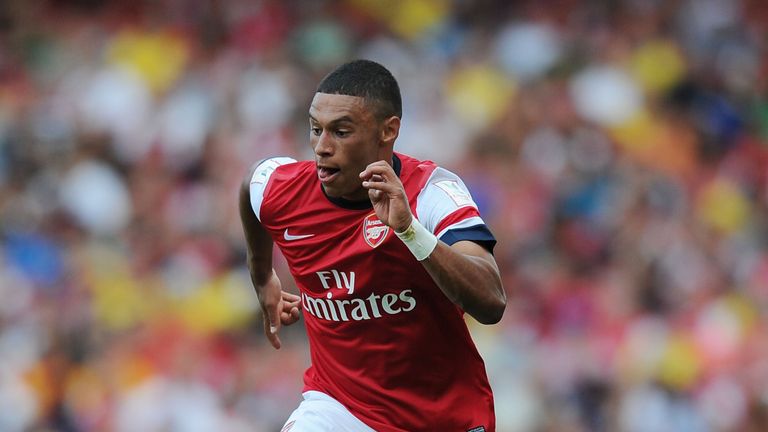 The Gunners last landed the top flight crown in 2003/04, with a decade having passed since the 'Invincibles' swept aside all before them.
It has been a period of transition for the club since then, with a move to Emirates Stadium coinciding with a switch in focus to the development of young talent and a reluctance to spend big in the transfer market.
Arsene Wenger's side have, however, offered a positive response to an opening day setback at the start of the current campaign to claim back-to-back successes in the league and lure Germany international Mesut Ozil to north London from Real Madrid.
Oxlade-Chamberlain says the club never doubted that they could be among the frontrunners in 2013/14 and is convinced that they will be there or thereabouts when the silverware is handed out.
He told The Daily Telegraph: "We've been contenders ever since I came to Arsenal. Or at least that's the feeling in the squad. We really think we can take the title.
"Obviously it hasn't happened in recent seasons. But in the form we showed at the end of last season, and - when I was watching from the sidelines - in the spirit we've shown at the start of this, in the derby, everyone was fighting for each other.
"That team spirit, you can't buy it. That, along with our manager and the signings, I'm full of optimism that this season can be a good one.
"We think we can win the title. Just like we believe we can win every competition we're in. If you don't believe that, then you don't deserve to be at Arsenal."
World-class
Ozil could be the man to help Arsenal close the gap which has separated them from the title chasers in recent years, and Kieran Gibbs admits the arrival of a global superstar has everyone at Emirates Stadium excited.
Asked how he reacted to hearing that a £40million-plus deal had been completed, the England full-back said: "Jumped in the air. But you don't even have to be an Arsenal fan to jump in the air.
"When you find out that a world-class player like that is coming to England you're going to jump for joy even if you're a Tottenham fan. Well, maybe not a Tottenham fan, I won't push it too far.
"In the end we and the fans have got what we want: a really good addition."
Arsenal have also been able to keep key men out of the clutches of a rival, something they have been unable to do of late, and Gibbs added on that front: "Since I've been there, this is the strongest I've felt. Especially because quality players haven't left.
"That's really important. And players like Santi (Cazorla) have got another year's experience."