Real Madrid coach Carlo Ancelotti says Mesut Ozil wanted to leave for Arsenal
Real Madrid coach Carlo Ancelotti says Mesut Ozil's summer move to Arsenal was driven by the player's desire to leave.
Last Updated: 17/09/13 5:34pm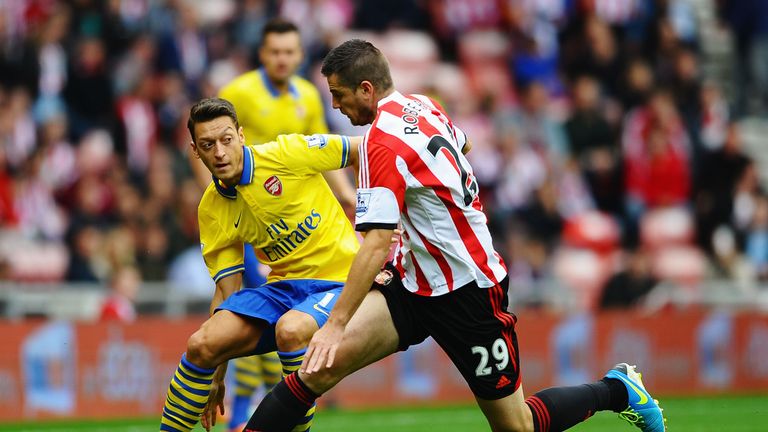 The Gunners left it late to wrap up the kind of deal their supporters have been crying out for - with a £40million-plus transfer completed on deadline day.
Their gain is considered to be Real's considerable loss, with Ozil having shown during a three-year spell in La Liga that he is among the world's most creative talents.
Real supporters did not want him to leave, even as they prepared to toast the arrival of Gareth Bale, and Ancelotti claims he also hoped to see the Germany international stay.
In the end, there was little the Italian could do to prevent a sale, with Ozil having taken the decision to go in pursuit of regular football in England rather than battle for a starting berth in Spain.
Ancelotti told L'Equipe: "At great clubs there are two ways to react to competition: either you stay to fight for your position or you leave.
"Mamadou Sakho talked to me early last season (during his time at Paris St Germain) and I warned him that he would have to fight to play, and he said he would do that.
"Ozil preferred to leave. He said he left the club because he didn't feel trust. But he never came to talk to me. Before the international break we played three matches, he played two in the starting XI and he didn't play the last one because of transfer rumours."
Ancelotti has also been discussing other possible comings and goings at Santiago Bernabeu, with a move for Zlatan Ibrahimovic - a man he worked with at PSG - ruled out.
He added: "Could Zlatan Ibrahimovic join me at Real? It is a matter of age. He also feels very happy in Paris."
On reports suggesting Karim Benzema's days in Spain could be numbered, Ancelotti said: "I can say Karim is working hard and is professional at Real.
"If I have to find one fault, I believe he has to show more character on the pitch. He is a player with a lot of experience of high level matches, but he doesn't talk a lot on the pitch.
"I believe Real will show him trust this year."