Champions League: Arsene Wenger pleased with Arsenal win in Marseille
Arsenal boss Arsene Wenger believes getting the first goal was crucial in their 2-1 win over Marseille.
Last Updated: 19/09/13 8:56am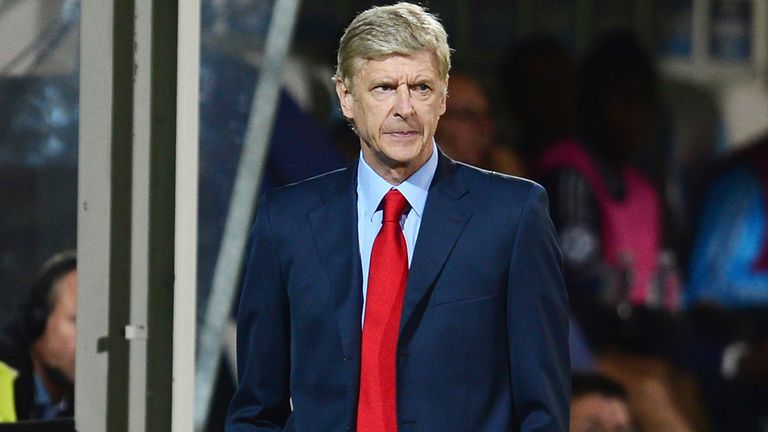 Wenger's side survived some nervous moments in the Stade Velodrome before Theo Walcott opened the scoring with an excellently executed volley 25-minutes from time.
Aaron Ramsey doubled their lead and sealed the win five-minutes from the end, although there was time for Marseille to score from a penalty deep in injury time through Jordan Ayew.
But Wenger was happy and admits they could not have afforded to go behind.
"I believe it was important for us not to give the first goal away," he told Sky Sports.
"I thought Marseille had an excellent first half and we were a bit timid but in the second half they dropped and we took advantage of our good moments in the game.
"But overall it was a victory linked with patience and experience even if we were not flamboyant - we start with three points which is good.
"We know we have all our players who can make something special and I knew it would be a difficult game, first home league game for Marseille and a passionate crowd - they are a good side and can beat anyone here."
Delight
Wenger was delighted with both his goalscorers, as Walcott claimed his first of the season, whilst it was Ramsey's sixth.
"He [Walcott] has scored the most difficult of his chances and that should give him a boost and I am sure he will continue to score," he said.
On Ramsey he added: "It is outstanding and that is linked with his confidence, now every time he is in a good position he scores - scoring goals is like in cycles where sometimes it always goes for you."
Arsenal have now won a club record 10 away games, but Wenger is not reading too much into that.
"We just focus on the next game and it is good and shows that defence we are more stable and serene, and with our attacking quality that why we are able to win the games."