Premier League: Santi Cazorla has no regrets about joining Arsenal
Santi Cazorla has no regrets about joining Arsenal after revealing Real Madrid showed an interest in him.
Last Updated: 22/09/13 1:35pm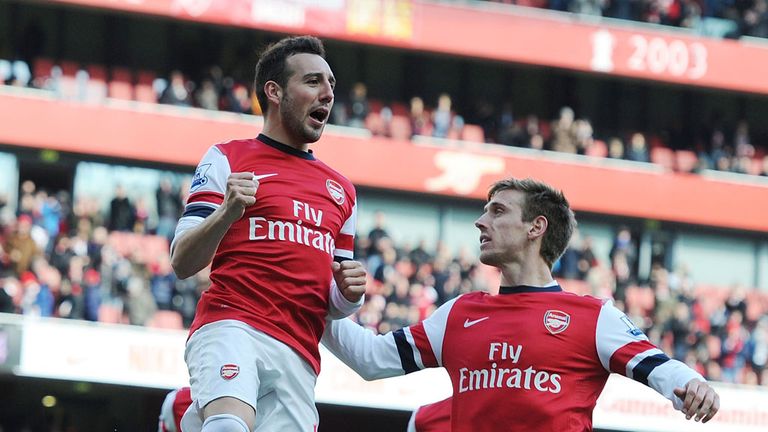 The Spanish ace switched to the Gunners from Malaga a year ago in a £16million move and has gone on to establish himself in Arsene Wenger's midfield.
Cazorla has nothing but praise for his former boss Manuel Pellegrini, the current Manchester City supremo who managed him at both Villarreal and Malaga, and he is glad he switched to the Gunners.
He told The Sun on Sunday: "Real showed interest and the negotiations started but it didn't become concrete.
"There is nothing to regret about that, everything has worked out well.
"Pellegrini was always honest and direct. He told me I would not play for Villarreal for a year because I needed to go out and get experience and he sent me to Recreativo.
"He was important for me. He took me back like he said he would and that is when I flourished.
"Maybe he's not as 'sexy' as some other coaches but I owe him a lot for the way my career has turned out."
Wilshere praise
Cazorla also believes team-mate Jack Wilshere is as good as any Spanish superstar as the debate rages whether there are too many foreigners in the Premier League, so hindering English talent.
He added: "Jack is a spectacular player. He is the present and future, not just of Arsenal but the England team too.
"He can definitely play to the level of the word-class Spanish players.
"There are a lot of foreign players here (in the English game) and there is some truth that it can be a problem.
"But opportunities are given equally and I know that happens at Arsenal. If there is a good English player pushing he will have exactly the same chance as a foreign player."