Just seventeen
This weekend's match against Swansea marks Arsene Wenger's 17th anniversary as Arsenal boss. What have been his best decisions in that time? We have picked our favourites. Do you agree?
By Peter Fraser, Matt Stanger, Sarah Winterburn, Adam Bate & Alex Dunn
Last Updated: 27/09/13 1:02pm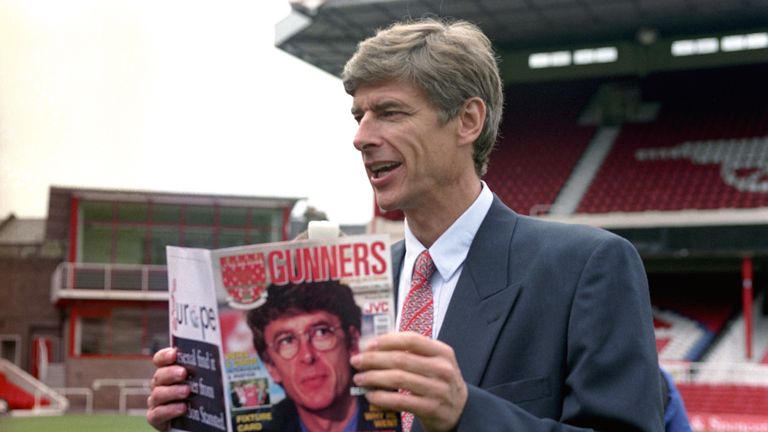 When Arsenal take on Swansea City on Saturday Night Football this weekend, the game will mark 17 years to the day since Arsene Wenger was appointed as manager.
The French former Nagoya Grampus Eight boss officially began work with Arsenal in October, 1996. But the paperwork had been signed on 28th September - infamously to the Evening Standard headline of 'Arsene who?'.
Wenger, the Premier League's longest serving manager, may have faced criticism over the years but that is unfair on one of the greatest bosses to have graced English football - a man who has won two Doubles and coached 'The Invincibles'.
To mark this year's anniversary, the skysports.com football desk got their heads together to come up with the 17 best decisions which Wenger, Le Professeur, fluent in at least five languages and holder of a master's degree in Economics, has made in his time at Arsenal.
Sticking with the old guard
Wenger is well known for his preference to develop young talent into stars. His mentality was no different when he first arrived at Arsenal. But rather than risk immediately ripping up the foundation of his inherited squad he wisely kept faith in Lee Dixon, Nigel Winterburn, Tony Adams, Steve Bould, Martin Keown and David Seaman, who all entered or were already in their 30s in Wenger's first season. Wenger once said: "When I first came to Arsenal, I realised the back four were all university graduates in the art of defending. As for Tony Adams, I consider him to be a doctor of defence. He is simply outstanding."
Signing Vieira and Petit
Vieira was brought in as a relative unknown from AC Milan in 1996 but he was just one of many examples of Wenger's ability to spot talent. The midfielder became a colossus and one of the best in the world before leaving for Juventus in 2005 with the winning penalty in the FA Cup final. Ponytailed Petit had played under Wenger at Monaco as a defender but he was converted to a midfielder at Arsenal. French compatriots Petit and Vieira went on to be an immense central midfield force and were hugely influential in their club becoming a trophy-winning machine before the former left for Barcelona in 2000. The likes of Freddie Ljungberg and Marc Overmars were also great signings to name just two but Vieira and Petit were rock solid.
Turning down Bayern, Real, France and anyone or everyone
Over the years, Wenger has been linked with more club and country jobs than it is possible to remember. At times, he has been linked with England and has supposedly been offered the Bayern Munich, Real Madrid and France jobs. If Wenger had wanted to leave Arsenal, he could have done. But he has stayed and it is a perfect match. He may at times annoy fans but it is impossible to think of his methods, economics and principles working at any other club or team in the world.
Bringing English football into the modern era
When Wenger first arrived in England, he said: "What's really dreadful is the diet in Britain. The whole day you drink tea with milk and coffee with milk and cakes. If you had a fantasy world of what you shouldn't eat in sport, it's what you eat here." He set about revolutionising footballers' diets, training methods, and lifestyles. It took the rest of the Premier League a decade to fully catch up. Not only that but Wenger achieved this while winning trophies with stylish football.
Picking a war of words with Fergie
This is for the entertainment factor. What would we have done through the decades without Wenger and former Manchester United boss Sir Alex Ferguson sniping (mind games) at each other? Ferguson started on the front foot, comparing Wenger to an unnamed United player: "They say he's an intelligent man, right? Speaks five languages? I've got a 15-year-old boy from the Ivory Coast who speaks five languages." They would continue their squabble, with Wenger accusing the Football Association of favouritism towards Ferguson. It all reached an ugly head in the mid-Noughties and the infamous Pizza-gate.
Keeping Rice
After taking over in 1996, Wenger could have decided to bring in his own backroom staff. Instead, like keeping faith in his ageing defenders, he kept assistant manager Pat Rice by his side. Rice was a club man who knew Arsenal inside out. He would be key in helping Wenger settle into life at the club and also in giving him a link. Rice remained as Wenger's right-hand man until he retired in 2012.
'I did not see it'
It is a Wenger catchphrase but it is also sensible man-management. Facing the media after any contentious incident which could be to the harm of one of his players, Wenger will regularly say, "I did not see it". Of course he saw it but he is protecting his players. As Paolo Di Canio has most recently demonstrated, there is no benefit in failing to protect players in public. Wenger once said: "If you are asking me if I have lied to the press to protect a player, the honest answer is yes. I didn't do it and feel comfortable afterwards. But if it's for one of my players, it's a good cause."
Convincing Campbell to cross North London
In 2001, it was clear Sol Campbell was going to be leaving Tottenham Hotspur. All of Europe's top clubs were therefore on alert of the possibility of signing one of the best centre-backs in the world. Arsenal were interested but it was considered they did not have the financial muscle to compete with the likes of Barcelona. Any player joining a North London rival would also cause mass outrage. Wenger, though, sold his vision of a "football challenge" to Campbell and convinced the England international to move to Arsenal. Campbell would be branded 'Judas' by Tottenham fans but won two Premier League titles, including the Invincibles of 2003/04, and three FA Cups with Arsenal.
Giving Cole his chance
Having made his Arsenal debut as a teenager in the late 1990s, future England international Ashley Cole was then loaned to Crystal Palace. There were then rumours of Cole potentially moving to Blackburn Rovers during the reign of Graeme Souness. But Wenger knew talent when he saw it and, when Sylvinho got injured in 2000/01, he did not hesitate in picking Cole. The left-back became Arsenal's first-choice before he controversially moved to Chelsea in 2006. Cole is an England centurion and will be considered one of his country's greatest ever defenders.
Playing Henry as a striker
'Où est le barn door?' read the cover of an Arsenal fanzine during Thierry Henry's early years at the club following his arrival from Juventus in 1999. But, once again, Wenger had seen potential. Henry did not join Arsenal as an out-and-out striker but his manager in England pushed him into that position and the results speak for themselves. A club record 228 goals, the majority of which were stunners, an iconic captain, two Premier League titles and three FA Cups is not a bad return at all.
Transfer policy after moving to the Emirates
Wenger has suffered some unbelievable criticism over his transfer policy in recent years. Whether it has been dictated to him from above or whether it has been his decision has never been completely clear. But what was clear was his public stance of supporting the policy of not spending recklessly on players at a time when Arsenal were paying off their move from Highbury to Emirates Stadium in 2006. The policy may have led to a lack of star players and trophies but the club are financially stable and when the spend-at-will bubble of rivals inevitably implodes in the same fashion as the global economic recession, Arsenal will see the benefits.
Selling Adebayor
At the time of the sale of striker Emmanuel Adebayor to Manchester City in the summer of 2009, it was seen as a major loss to a new and emerging title rival. Adebayor was Arsenal's main goal threat and a star player. However, Wenger knew otherwise. Arsenal got £25million for a player who has since gone on to prove a walking time-bomb of self-destruction at every other club. Adebayor currently finds himself in the reserves at Tottenham. Meanwhile, at the time of selling Adebayor, Wenger knew he had a player by the name of Robin van Persie up his sleeve...
Keeping faith in Van Persie
Having arrived at Arsenal from Feyenoord for just £2.75million in 2004, Van Persie had failed to set the world alight in the majority of his time at the club. Injuries, an apparent lack of confidence and also having to play second fiddle to Adebayor meant the Dutchman had not been able to realise his potential. But between 2010 and 2012, Van Persie began to showcase the undoubted ability which had led Wenger to pursue his signature and he scored 48 Premier League goals in that time. It may have ended a bit acrimoniously but Van Persie would go on to join Manchester United for almost nine times what Arsenal had paid.
The 2005 FA Cup final
This was infamously Arsenal's last trophy but their silverware drought might have been even longer had Wenger not set about winning this game in a manner which went against his instincts. After a 0-0 draw following extra time, Arsenal defeated Manchester United on penalties, with Vieira scoring that victorious spot-kick. But it was Wenger's tactics in the match which were decisive. Acknowledging United's superiority, and for perhaps the only occasion in his time with Arsenal, he ordered his players to win ugly - abandoning their free-flowing football. It might not have been pretty but they won.
Giving the captaincy to Fabregas
'Madness' screamed one of England's national newspaper columnists at Wenger's decision to make Cesc Fabregas the new captain of Arsenal in the wake of William Gallas' outburst against the club's squad in 2008. But, once again, Wenger was demonstrating he knows best. Fabregas would flourish in the responsibility despite only being 21 years old. The Spaniard was an inspiration, a brilliant footballer and a leader. His form as skipper led to a 2011 return to boyhood club Barcelona.
Returning to Henry, Campbell and Flamini
Wenger's preference for taking young potential and developing it into star talent has already been discussed. But he has also proved he is not too proud to admit when a different approach is required. With Arsenal short of options and experience, Wenger decided to re-sign Henry in 2012 on loan and also brought back Campbell in 2010. Both moves proved a success. Wenger also appears to be doing likewise with Mathieu Flamini to great reward this season.
Bould move
When Rice retired in 2012, Wenger needed a new assistant. He would likely have had the pick of the world's coaches from which to select but he decided to promote his former player and Arsenal legend Bould from the club's youth ranks. As with Rice, this was a shrewd, club man and also had the defensive nous to improve Arsenal's back-line. Although there have been rumours of a prickly relationship, it still looks like another good Wenger decision.