Arsenal boss Arsene Wenger expects six sides in Premier League title race
Arsenal boss Arsene Wenger believes the Premier League title race is wide open this season.
Last Updated: 28/09/13 5:02pm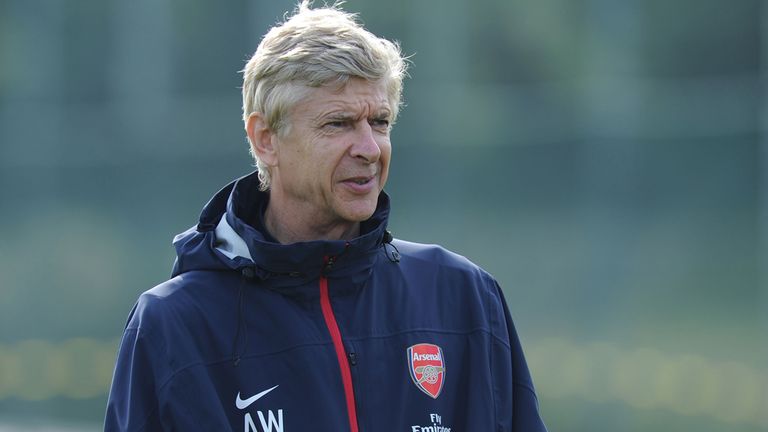 Only two points separate the leading five sides heading into this weekend's matches, which will see second-placed Tottenham host Chelsea, while reigning champions Manchester United may be eighth but remain only five points off the summit.
Arsenal have produced the perfect response to their 3-1 home loss to Aston Villa on the opening day, chalking up seven straight wins in all competitions, and progressing through a penalty shoot-out at West Brom in the Capital One Cup earlier this week.
But Gunners boss Wenger knows the biggest challenges lay ahead in maintaining such form.
"I thought some teams could have a perfect start, but as you have seen everybody at some stage or another has had a bad result and that allowed us to bounce back.
"If you have a choice, that's where you want to be [at the top]. It is a very early stage, but there is a compact group of teams.
"[I believe] five, six [teams can challenge for the title]. The top four of last year, Liverpool, Tottenham, all these teams, yes.
"If you look at the quality of the games, the whole season looks to be very promising."
The Frenchman, meanwhile, has received the full backing of Arsenal owner Stan Kroenke as his young team look to deliver a first trophy since 2005.
The London club are embarking on what they hope will be a new chapter backed by increased financial resources, which helped secure the record £43million signing of Mesut Ozil from Real Madrid.
"I am very grateful to this club because during the 17 years we had ups and downs," Wenger added.
"They have always shown a big faith in me and they always let me do the job like I thought it had to be done, and if I am still here today it is because I got that consistent support from inside the club.
"Honestly, I would love to be here forever because that would mean I would be immortal! I am (though) not naive enough to believe that.
"What I would like to do as long as I am here is give my best for this club because I love this club, of course."
Wenger, whose current deal expires at the end of the season, added: "I am very honoured to have the support of Stan Kroenke. That he thinks I can help the club is a huge confidence vote.
"That is something for me that is very positive."
Watch Swansea v Arsenal live on Sky Sports 1HD from 5.30pm on Saturday.