Arsenal boss Arsene Wenger insists early talk of Premier League title is 'ridiculous'
Arsenal manager Arsene Wenger has insisted it is far too early to start discussing who might win the Premier League.
Last Updated: 01/10/13 9:12am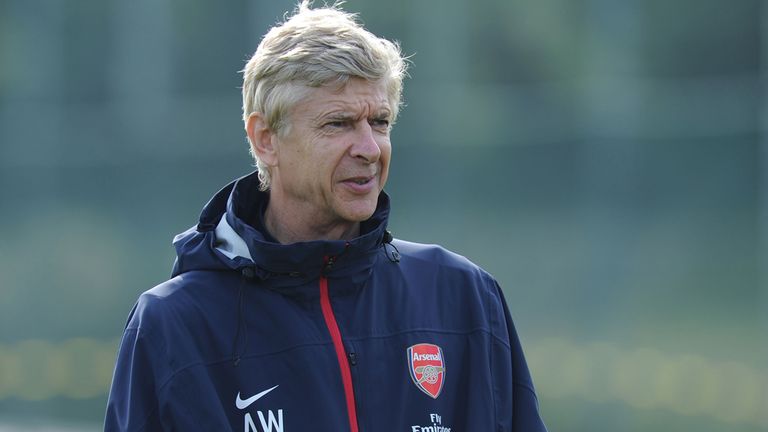 The Gunners sit two points clear at the top of the table after Saturday's 2-1 win at Swansea - recording five straight wins following an opening-day defeat by Aston Villa.
But speaking ahead of the Champions League clash with Napoli on Tuesday, Wenger refused to be drawn on his side's chances of being top next May.
"We want the right balance between ambition and humility. To speak about the title today is ridiculous," he said.
Wenger says he was not worried about Arsenal's season after their loss to Villa, which sparked claims the club was in crisis as they struggled to bring in new players before the transfer deadline.
"People forgot we were on a very long run, since March we had not lost a game and if you put that in perspective, the Villa game was just one single game we have lost in 21 now," he said.
"The 'crisis' was a combination of factors; we had not bought anyone, have not won the championship for a long time and the fact we lost the game, all this together made the situation explosive, but it was an accident and we have responded."
One of the factors behind Arsenal's excellent start has been the form of midfielder Aaron Ramsey, who has already scored nine goals and five in his last four games, and striker Olivier Giroud, who has five goals after a frustrating first season in England.
"Aaron has gained confidence now and he has a desire to improve. He puts the workrate in. For Olivier, the jump was quite big [to Arsenal] and in the first season it is difficult. You always think at 27 that the best years are coming for him now."
Defender Bacary Sagna was more bullish about Arsenal's title chances than his manager, insisting the Gunners can retain their focus to finally last the distance and mount a sustained challenge.
Sagna sees no reason why the players, boosted by the club-record £43million deadline day transfer signing of Mesut Ozil from Real Madrid, cannot keep up their performance levels.
"At the moment the team is very confident, we are very ambitious and the best way to do that is to win games," the full-back said.
"We have to take it game by game until the end.
"We have the quality to do it and I think we can do it, but we have to stay focused until the end and we have to keep working hard."
Praising the contribution of fellow Frenchman Giroud, Sagna said: "He is always questioning himself, knows what he did well and what he did wrong.
"Olivier tries to work on it during training sessions and tries to communicate with the boss, is always asking about his positioning, what he could do more.
"He is a very good player, good physically in front of the goal and finishes well,
"We need to give him time and I think he will improve even more, and be more decisive."