Arsene Wenger: Arsenal genuine Champions League contenders
Arsene Wenger believes Arsenal are serious challengers for this season's Champions League - if they can get out Group F.
Last Updated: 01/10/13 3:58pm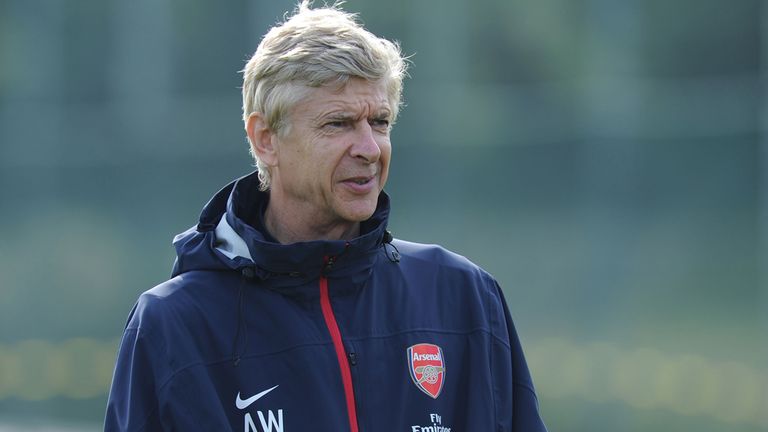 Arsenal were drawn in what on paper looks the toughest group along with Marseille, Borussia Dortmund and Napoli.
They beat Marseille away from home in their first match, and take on Rafael Benitez's Napoli at Emirates Stadium on Tuesday night.
Wenger believes that if they can escape Group F, they have every chance of going all the way.
"It is something I miss that I will try to fight very hard to fill my CV with," said Wenger.
"But you play against Barcelona, Bayern (Munich), Real Madrid - every year they are there with a chance.
"You always think 'let's do it' every year, and one year it will go for you, so let's hope it will be this year. The competition is higher than ever.
"If we get out of the group I would say we have a chance (to win the trophy) - but what we have to show is that we have the strength.
"It is difficult to predict because after the group stage, it is a cup (competition) and then it is about who is available, who is fit and who isn't, you cannot plan."
Napoli beat Dortmund - last year's runners-up - 2-1 at home on Matchday One and have opened their Serie A campaign with five wins and a draw from six Serie A games.
Wenger said: "We will be faithful to what we do in the Champions League and try to have the ball.
"We know as well that the way we stop them from counter-attacking is vital as that is their strength."
Arsenal will again rely on France striker Olivier Giroud to lead the attack.
Wenger believes there is more to come from the former Montpellier frontman who arrived last summer.
The Arsenal manager said: "Giroud is already (one of the leading strikers in Europe). I just think will he improve, be better in all the aspects of his game? As long as all the aspects are there, the attitude is there as well, then at 27 you always think the best years are coming for him now."
Defender Bacary Sagna also praised the contribution of fellow Frenchman Giroud, and said: "He is always questioning himself, knows what he did well and what he did wrong.
"Olivier tries to work on it during training sessions and tries to communicate with the boss, is always asking about his positioning, what he could do more.
"He is a very good player, good physically in front of the goal and finishes well,
"We need to give him time and I think he will improve even more, and be more decisive."