Mathieu Flamini backs Arsenal team-mate Jack Wilshere after smoking photographs
Mathieu Flamini expects Arsenal team-mate Jack Wilshere to learn from his recent 'mistake'.
Last Updated: 08/10/13 12:22pm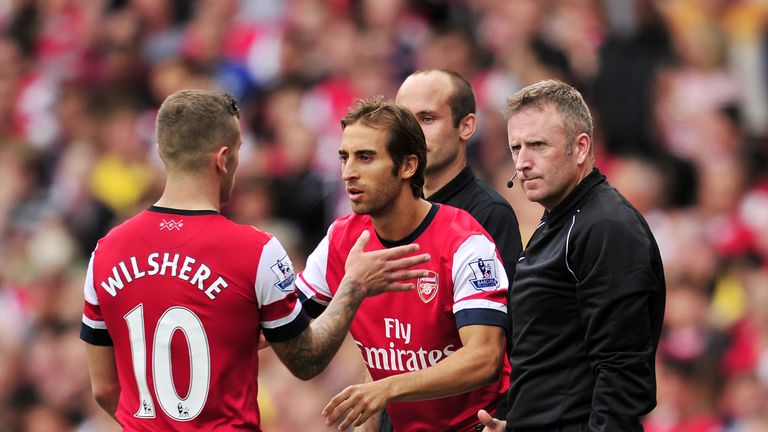 Wilshere was pictured smoking outside a nightclub last week and the England international has subsequently confirmed there will be no repeat of the incident.
Arsene Wenger has discussed the issue with Wilshere and the midfielder went on to score the equaliser in Sunday's 1-1 draw at West Bromwich Albion.
Flamini, who returned to Arsenal in the summer, has backed Wilshere following the issue and believes the matter is now behind the 21-year-old.
"Things like that can happen," Flamini is quoted in the Daily Star. "Jack was focused for the game. He is still young, he has to keep working hard.
"He is learning. I don't think that was a problem. The manager talked to him and it is behind him now.
"Jack is a very talented player with a lot of quality and he plays in a great team. He has everything to be successful.
"He has proven that to everyone, he has done well game after game and, of course, he will improve."
After the draw with West Brom, Wenger complained about the number of times Wilshere was fouled, but Flamini feels his team-mate can cope with any extra attention on the pitch.
He added: "He plays that kind of game. He gets kicked from behind or they try and jump on him.
"It is not easy when you are talented and trying to make the difference. He is a technical player, so every time he has the ball he has one or two players against him.
"Of course it is sometimes difficult to keep your calm but I think he did it well on Sunday. It was important to score that goal and he did it."