Arsene Wenger ready for Arsenal's 'decisive' games against Borussia Dortmund
Arsene Wenger feels Arsenal's double-header against Borussia Dortmund will be "decisive" in Champions League Group F.
Last Updated: 22/10/13 9:53pm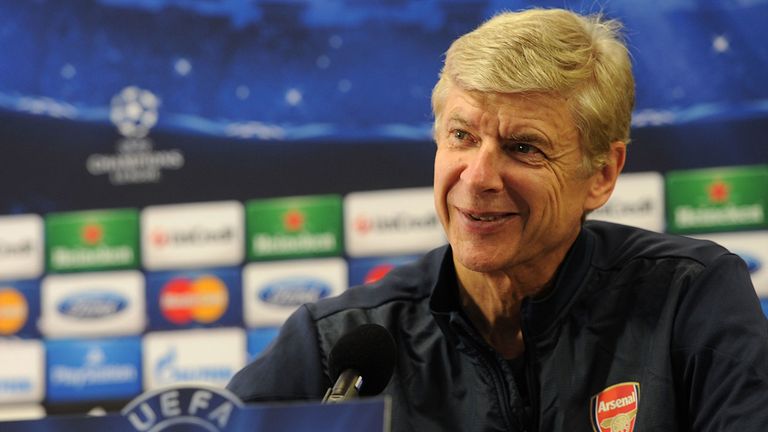 Arsenal, who currently top the group following wins over Marseille and Napoli, welcome last season's runners-up to the Emirates on Tuesday night.
They then head out to Germany on matchday four with Wenger acknowledging the two games could prove pivotal to their prospects.
"Dortmund have grown a lot and they look a different proposition now," Wenger told www.uefa.com. "I feel we are stronger as well this season, so I think it will be very interesting.
"It is already a very important tie because usually (matchday) three and four usually are decisive, so that could be the key for us to qualify."
Wenger believes Arsenal can go a long way in this year's competition and points to some tough draws as the reason they have failed to progress in recent seasons.
"We have experience everywhere, we go and we try and play without any inhibitions," he added.
"We were a bit unlucky in the last five or six years because we often came up against Barcelona, Bayern Munich or AC Milan, and it was very tight.
"Hopefully this season we will progress to the quarters, semi-final or even final, why not?"
Tuesday will also see Wenger celebrate his 64th birthday but the Frenchman insists his passion for the game remains undimmed.
"You always expect the perfect experience and that keeps you going, that passion for your team, passion for wanting to win games and give pleasure to people who come to watch and love the team," he said.
"Our job has some disadvantages, but as well some advantages, you never look back, you always look forwards to the next game and you prepare for that, it is vital.
"The happiness in our life depends on the result of the next game, so that makes you put all of your energy into the preparations for that game."