Premier League: Arsene Wenger applauds awesome Arsenal team goal
Arsene Wenger believes Arsenal's superb opening goal against Norwich will be watched and marvelled at around the world.
Last Updated: 20/10/13 10:03am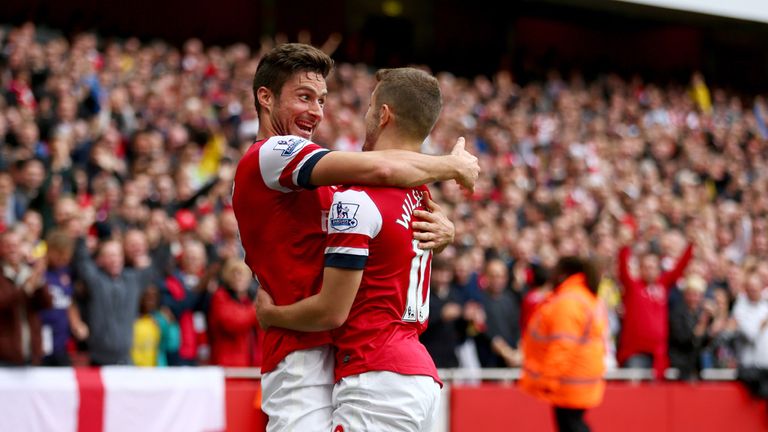 The Gunners beat Norwich 4-1 at Emirates Stadium on Saturday to take a two-point advantage at the top of the Premier League table.
Mesut Ozil scored twice, while Aaron Ramsey also found the net after coming off the bench at the end of the first half.
But it was Arsenal's first goal of the afternoon, scored by Jack Wilshere after 18 minutes, that had Wenger really cooing.
First Santi Cazorla pulled the ball back out to Wilshere, who played a quick pass into Olivier Giroud. His return pass was then flicked straight back by the England man, and in turn touched forwards by the France striker into Wilshere's path as he carried onto to the six-yard box before clipping a low first-time shot past John Ruddy.
"We scored a fantastic first goal," said Wenger. "It's a combination of skill, speed of reaction, and coolness in front of goal. I think it will travel a lot and be seen by many people.
"It was one of the best I've seen, a mixture of technical quality and quick thinking. All the goals were great, but the first was exceptional."
Despite the emphatic-looking scoreline, Wenger saluted Norwich and admitted they were the better team for the middle third of the 90 minutes.
"We had periods where we were absolutely outstanding, but periods where we suffered as well because Norwich were good," he added. "They worked very hard and are a good side.
"We took advantage of them getting tired in the last 20 minutes in a very clinical way, and their goalkeeper made some fantastic saves. Overall, you have to give credit to Norwich as well because they made it difficult for us. They always closed down everywhere on the pitch. That was difficult for them to maintain, but I think they disrupted our game."
Ramsey may have been dropped in favour of Cazorla, but he responded with another scintillating display when introduced for the injured Mathieu Flamini.
Wenger is impressed with the Welshman's composure, and also noted: "He looks more powerful as well - he's at an age when you really become a man.
"He is calmer in the box because he's scored goals before and he knows now how to respond to that. Overall, he's developing very well into a top player."
Wenger explained Flamini was suffering from concussion and double-vision after a collision with Alex Tettey and was taken off under the club doctor's advice.