Carlos Vela ready to face former Arsenal team-mate Robin van Persie at Old Trafford
Carlos Vela is confident he has grown since his Arsenal days as he prepares to face his old team-mate Robin van Persie.
Last Updated: 22/10/13 10:37am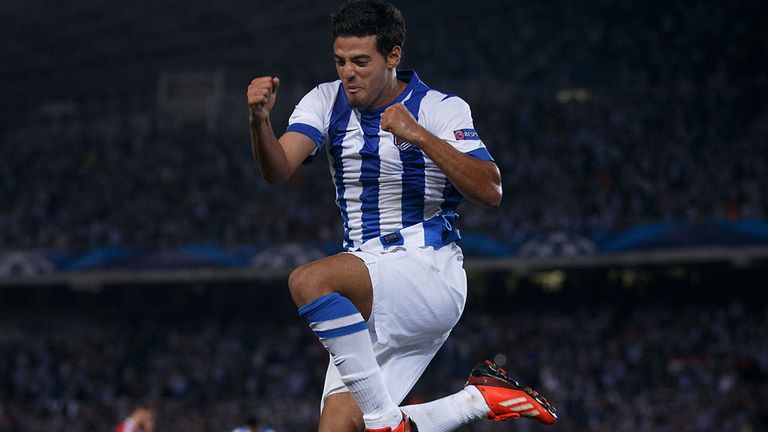 Vela started just three Premier League games during his seven years at Arsenal, with the bulk of his 64 appearances coming as a substitute.
The Mexico international joined Sociedad, initially on loan, in 2011 and he is back in England for Wednesday's UEFA Champions League group game against Manchester United.
He will come up against United striker Van Persie and Vela acknowledged the Dutchman was a great source of advice during their time together at Arsenal.
"I learned a lot from him," Vela told The Independent. "For me, he's the best striker in the world and it was a pleasure to be able to share moments in training with him.
"We used to sit next to each other in the dressing room and talk. I used to ask him about his movement, what was going through his mind when he did certain things, and he would explain. If I was missing something in my game he'd speak to me and give me advice and I'm grateful for that."
The Group A match at Old Trafford will also provide Vela with the opportunity to line up against his compatriot Javier Hernandez.
He added: "We've played together since we were 14, 15 and shared a lot of moments in the national team and in Chivas where we played before coming to Europe.
"He's a good player but the competition he's got at United is very difficult, having Van Persie and [Wayne] Rooney in front of him. However, he's a player and a person who doesn't give up and makes the most of any opportunity he gets."
The 24-year-old also feels he has progressed since leaving Arsenal, saying: "I've grown a lot. The fact I didn't get so many minutes at Arsenal meant I never had the continuity you need to be able to develop. Here I have the confidence and the time on the pitch.
"I've grown in every way and am a much better player than I was at Arsenal. When you're playing week in, week out, your confidence, your motivation is different and that's when you're prepared to risk trying new things and I've managed to get the best out of myself."