Santi Cazorla relishing link-up with Mesut Ozil when Arsenal play Crystal Palace
Santi Cazorla admits he cannot wait to team up with Mesut Ozil in the heart of Arsenal's midfield at Crystal Palace.
Last Updated: 25/10/13 10:37am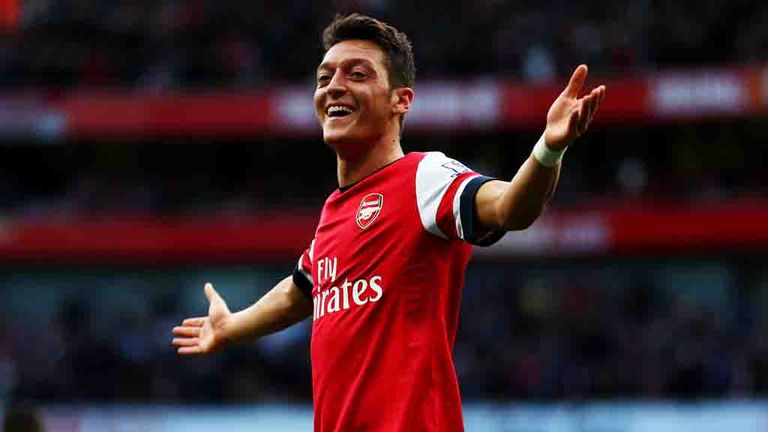 The Premier League leaders will be hoping to bounce back quickly from their defeat to Borussia Dortmund in the Champions League in the Saturday lunchtime kick-off.
Cazorla is hoping his partnership with Ozil will blossom and help propel the Gunners to some silverware this season.
"As the days go by we have a better association on the pitch," the Spain international said.
"We have got to know each other and I have to say that it is very easy to have a good understanding with a great player like him, since our playing philosophy is very similar.
"Mesut is a player of a different kind. He is a joy to watch and has a lot of talent. Like Zidane or Ronaldinho, he can be one of those players who marks an era.
"He is not the kind of player you are used to watching and he can win many games on his own, that is why he is a top player."
Arsenal face a managerless Crystal Palace side that has picked up just three points from eight league games, and the Gunners will be expected to score plenty of goals.
But defender Per Mertesacker said the team has to earn the right to attack by defending first.
"We know we are on a good run (in the Premier League), but we know it needs more than just playing with full freedom and vision - we need to defend first and then we can switch the rest on. You have seen what can happen after that," the centre-half said.
"We have players who can play so quickly together. Tomas Rosicky came in and fitted into everything as well as Mesut (Ozil) or Jack.
"When those three combined together, you could feel some magic in the air, a real chemistry."