Sir Alex Ferguson may return to football, says Arsene Wenger
Former Manchester United boss Sir Alex Ferguson may perform a U-turn and manage in football again, says Arsene Wenger.
Last Updated: 26/10/13 9:06am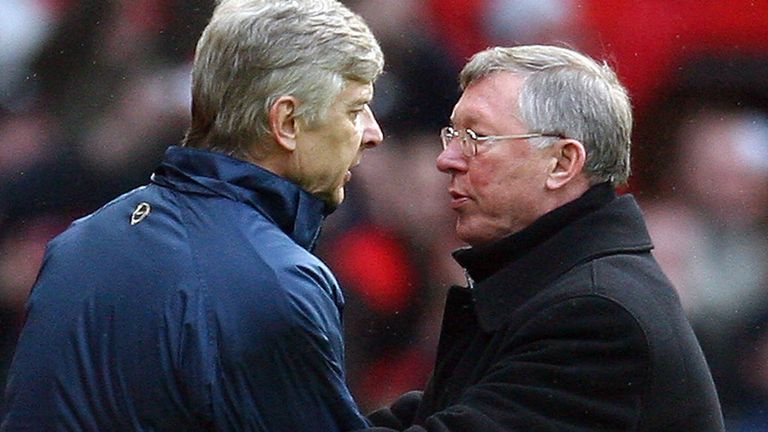 The Arsenal manager was a fierce adversary for Ferguson during his early days at Highbury but with a warming in relations over recent years, the Frenchman joked last week he was "fearing the worst" over the release of the Scot's memoirs.
Wenger has his own dedicated chapter in the book, entitled 'Competing with Wenger' - much of it based on the infamous 'pizzagate' at Old Trafford in 2004 when United ended the Gunners' 49-match unbeaten Premier League run.
Since Ferguson's retirement in the summer, Wenger is now the longest-serving manager in the Premier League and his pre-match comments ahead of Saturday's showdown at Crystal Palace, he seemed to be missing the rivalry.
On the likelihood of Ferguson returning to the game, Wenger said: "In six months we will know more about that. You cannot rule it completely out.
"It is difficult to take a drug for 30 years and suddenly get rid of it."
Wenger accepts English football may not again see the longevity of managers as it has with himself and Ferguson, such are the pressures for success in the modern game, highlighted once again with the recent exit of Ian Holloway at Palace.
"You would be tempted to say yes, because the environment has changed," the 64-year-old added. "Pressure through society is much bigger now because patience levels have dropped.
"Expectation levels have increased and 15 years ago you wouldn't think a manager like Ian Holloway would be under stress in October when he has managed to get a team like Crystal Palace up.
"We live in a speedy society and it is as well that some values have gone, others come in, but certainly the expectation levels are much higher. The impatience levels are much higher as well."
Despite having yet to agree a new deal at Arsenal, where he has been manager since 1996, the French coach insists he is as hungry for success as ever and has no intention of scribing his experiences just yet!
Wenger said: "It looks like Ferguson had prepared his book while he was managing - I suspect he had written some of it at home at night, remembering things and thinking: 'that goes into my book!'
"We have gone through some years that were a bit more difficult, but honestly, in our job, it is quite simple just to think about tomorrow or the next game, and that is it. After that, people judge.
"We are in a job that is a good teacher of humility, because we have to accept that everybody can judge our job at any moment without completely knowing all the ingredients of our job.
"But it is part of it, with the positive and the negative. Sometimes they give us credit we don't deserve as well, but we have to take both sides."