Arsenal unlikely to appeal Mikel Arteta's red card in 2-0 win at Crystal Palace
Arsene Wenger believes referee Chris Foy was wrong to send off Mikel Arteta in Arsenal's 2-0 win at Crystal Palace.
Last Updated: 27/10/13 7:37am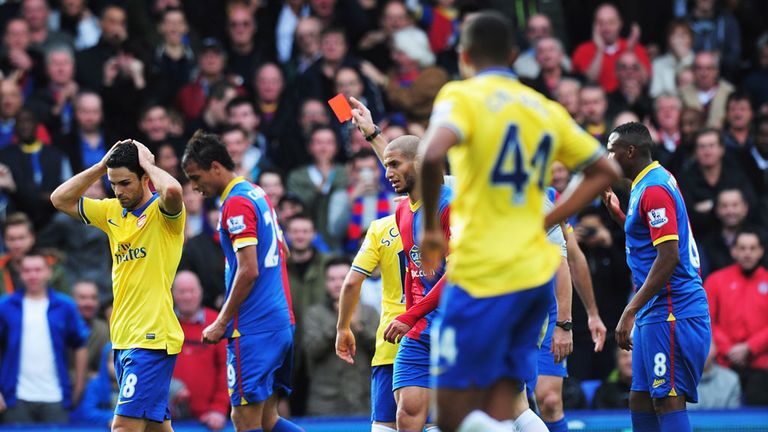 Arteta put Arsenal in front at Selhurst Park from the penalty spot two minutes into the second half after Adlene Guedioura had fouled Serge Gnabry.
However, the Spaniard was dismissed on 65 minutes for a foul on Marouane Chamakh, which Foy decided had denied the former Arsenal striker a clear goalscoring opportunity.
Wenger disagrees with that assessment, but is not planning to appeal as Arteta is only likely to be suspended for Tuesday's Capital One Cup tie against Chelsea.
"We have a good ground to appeal," said Wenger. "If he is only suspended for one game, I won't do it because he is suspended for Tuesday night and anyway I would not have played him, but it was more today's game that was at stake that you worry about.
"It was the wrong decision because it has to be a good goalscoring opportunity.
"He was far from goal, it was an accidental foul, he was not the last man.
"I think the referee got that one wrong and after that we dealt well with the situation.
"We were mature, organised and didn't become nervous and we got the second goal.
"Szczesny made two very good saves at an important moment of the game."
Arsenal finally secured three points when Aaron Ramsey broke down the left and delayed a chipped pass through for Olivier Giroud, who arrived on cue to nod the ball past Julian Speroni.
Wenger was pleased with the way his team closed out the match for a crucial victory following on from the disappointment of a midweek defeat at home in the Champions League to Borussia Dortmund.
"It was not a game of brilliance, but it was a game of efficiency and patience," he said.
"The pitch was a bit slow, maybe we were not the sharpest as well and the two together made us create less chances than we are used to, but we were serious and determined."
Wenger, though, is refusing to read too much into his side's solid start to the season, saying: "We are ambitious and want to do as well as we can. Uou can see that these players are focused.
"Even when the legs go a little bit, they keep their legs and that is always a sign of ambition in the team. We want to win with style but unfortunately it is not always possible."