Arsenal boss Arsene Wenger impressed by Olivier Giroud's improvement
Arsenal boss Arsene Wenger has hailed Olivier Giroud's improvement this term after a difficult first season at the club.
Last Updated: 28/10/13 10:02am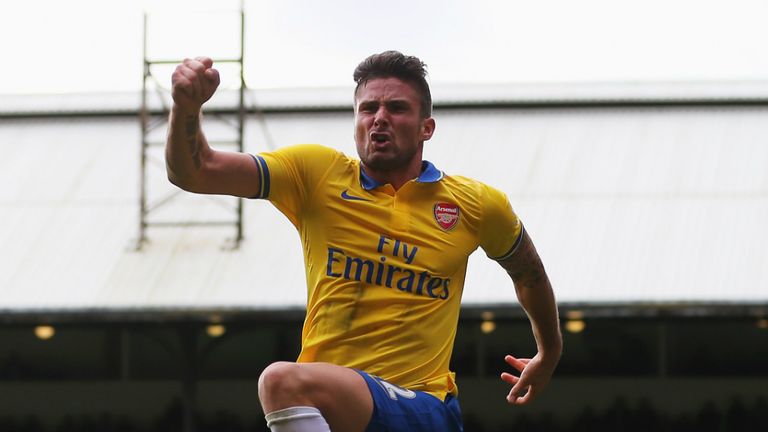 Giroud, who is in his second season at Arsenal after arriving from Montpellier, is starting to flourish at the Emirates after a difficult debut campaign for the Gunners.
The Frenchman scored the second crucial goal against Crystal Palace to seal a 2-0 win for 10-man Arsenal and their maintain their place at the top of the Premier League table.
It is not only Giroud's goals that have impressed Wenger this season, but his assists and work-rate have proved invaluable to Arsenal.
Wenger believes the striker has won over the fans with his attitude and he believes he can still improve and become even better.
"How much he has improved, I don't know. But he has, that's obvious to everybody," said Wenger. "If he keeps working like that then he will improve again."
Giroud missed several good chances before scoring late on to kill off Palace's chances of salvaging a point at Selhurst Park and Wenger is delighted with the striker's spirit.
"That is what makes him great," added Wenger. "He missed some chances but he always got the support of our fans because he shows he is ready for a fight.
"The fact that he kept going got him a goal. I like his spirit."
Wenger credits Giroud's improvement to the quality of his team-mates around him in the Arsenal side.
"He has improved through training and the fact he has played with top players," continued Wenger.
"They put pressure on you to take care of every pass because if you don't do that then players like Ozil, Wilshere and Cazorla will let you know."