Mikel Arteta disappointed Arsenal didn't sign Liverpool striker Luis Suarez
Mikel Arteta believes it is a 'pity' that Arsenal failed to sign his former neighbour Luis Suarez from Liverpool.
Last Updated: 01/11/13 8:10am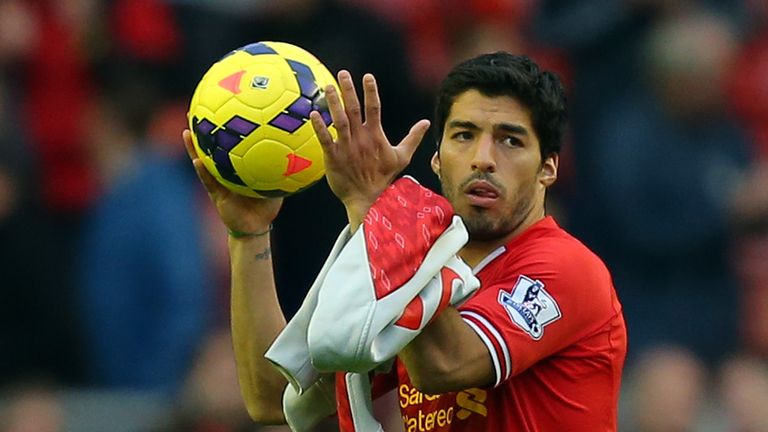 Arsenal offered £40million plus one pound for Suarez during the transfer window, but Liverpool stood firm and refused to sell the Uruguay international.
Suarez has returned from a 10-game ban for biting Branislav Ivanovic last season in sparkling form after scoring six goals in four Premier League appearances.
He has been regularly involved in controversial incidents during his time at Liverpool, but former Everton midfielder Arteta insists that Suarez is a 'good lad'.
"People don't know the real Luis," Arteta told The Sun. "He's a really good lad.
"I know Suarez really well. He used to live in the next house to me and, whenever I've met him, he's always been really nice.
"It's a pity Arsenal could not get Suarez.
"Suarez and Daniel Sturridge are the two most in-form strikers in the league and will be a big threat to us. But we have the quality to beat them."
Arsenal face Liverpool at the Emirates Stadium with a two-point lead at the top of the table and Arteta is pleased with how Arsene Wenger's side have started the season.
He added: "People are saying this team is too open and that we cannot win things this way. But it's part of our game and we want to play with risks.
"We've scored more goals than any other team this season playing this way and the manager likes his team to entertain.
"It's the Arsenal philosophy and I really doubt the boss is going to change his mind about that."
However, Arteta is also mindful of the need to adopt caution when required, saying: "Although it's good to play offensive football, when you're winning 1-0 away from home you need to think about your position and whether the risks you are taking are really necessary.
"That's something that can be improved and, if we can avoid those silly mistakes, we can be a better team."
Watch Arsenal v Liverpool on SNF on Sky Sports HD1, kick-off 1730 on Saturday