Premier League: Arsenal boss Arsene Wenger believes seven teams can win title
Arsenal manager Arsene Wenger believes as many as six or seven teams could win the Premier League this season.
Last Updated: 04/11/13 8:01pm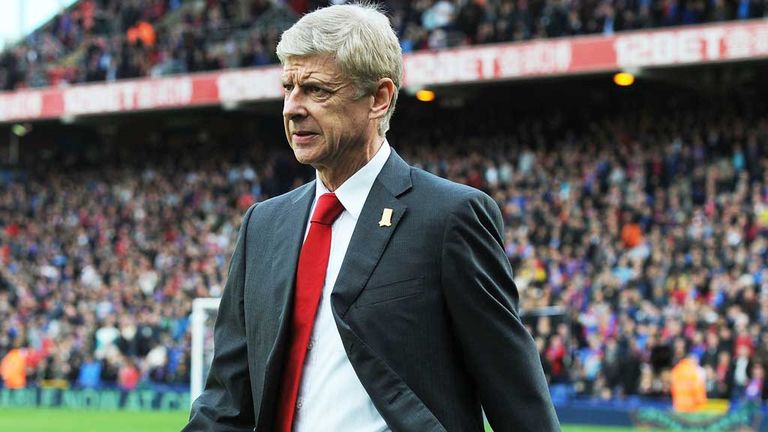 Wenger's side entertain fellow title contenders Liverpool at the Emirates Stadium on Saturday evening and start the weekend top of the table, with Liverpool just two points behind in third.
Results earlier in the day may see others leapfrog them but Wenger is unfazed, insisting there is a long way to go before the main frontrunners emerge.
"We want to be, and I think we are, title contenders, and Liverpool as well," he said.
"You have four other teams certainly, or five, who will be title contenders this year.
"It is a big game for us, massively important, but I don't worry about where the teams are (in the table).
"Between the team who is 14th and the team who is eighth, there are two or three points. At the moment, the table has no real significance."
Wenger tried to sign Liverpool striker Luis Suarez during the summer transfer window, after Arsenal triggered a release clause for the Uruguay international.
But Liverpool refused to sell the player and Wenger was coy regarding any continuing interest, concentrating on Olivier Giroud's contribution instead.
Wenger said: "He plays for Liverpool tomorrow. What is important for me is the players who play for Arsenal really, not those who could play for Arsenal.
"What is very important is the players who play against Luis Suarez. That is what is important for me, 24 hours before the game.
"I believe Giroud has proven since the start of the season that he's an exceptional striker and I'm convinced he will be up for it tomorrow to show that again.
"Giroud is a real centre-forward who uses his power - he is really central. Suarez is more a player who goes on the flanks and is more a dribbler."
Wenger continued: "I think our target is to have the ball and master the situation because we are dominating and we have more of the ball than our opponents - and if we have the ball a lot we do not need to worry too much about our opponents and that will be the target tomorrow."
Wenger maintains his squad are determined to show their title aspirations are not unfounded with an impressive display against the Reds, as they look to avoid what would be a third successive home defeat following the Champions League loss to Borussia Dortmund and so maintain momentum with a return European tie in Germany next week ahead of the trip to Manchester United on November 10.
"It is an important period of course, but I am quite confident and am quite relaxed because I have the complete confidence that we will deal well with it.
"I take it as an opportunity to show our strengths and I am completely sure that the players will be up for it and take this opportunity.
"We are a very stable team who, since January 1, has taken more points than anybody else.
"I learnt a lot about my team through the spring period when we had our backs to the wall and had to win every single game. I know how strong these guys are and how much they want it."
Watch Arsenal v Liverpool on SNF on Sky Sports HD1. The programme gets under way on Saturday at 5pm.