Tottenham's Jan Vertonghen unsure if Arsenal will last the pace in title race
Tottenham's Jan Vertonghen is unsure if Arsenal will last the pace in the title race, but says he rates them highly.
Last Updated: 05/11/13 10:13am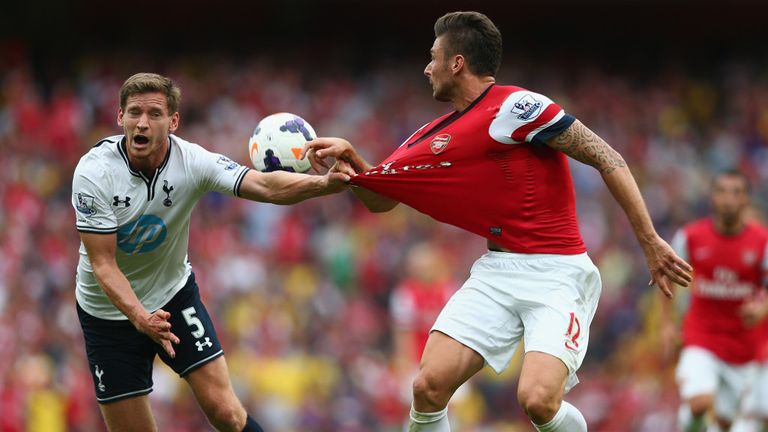 The Gunners top the table by five points after 10 games, which include a 1-0 win over Spurs in September.
Results over the last weekend saw Arsene Wenger's side extend their lead over second-placed Chelsea.
Spurs could have closed the gap to three points with a win over Everton, but their goalless draw at Goodison Park saw them level with Chelsea and Liverpool and 20 points, behind on goal difference.
"It's too early to call Arsenal the title contender," the Belgian defender to TV station Telenet in his home country.
"The only thing you can say is that they're stronger than last season. They have a stronger squad, can play different systems and have a great bunch of creativity in their midfield. Although I expect still a lot from Manchester City."
Spurs have been criticised in some quarters for a return of just nine goals in the league season so far, but Vertonghen is happy with the side's defensive displays.
"Defensively our team is strong," he added. We had a clean sheet in 12 of 16 games. We only played one bad game: against West Ham."
Vertonghen has started all 10 of Spurs' league matches so far this season, but he is unsure that his versatility, which has seen the 26-year-old play at full-back as well as his preferred role in central defence, is allowing him to focus on his strengths.
"I can play left-back, I'm helping the team out on that position," he said. "When there are some injuries, I'm the first back-up option.
"Sometimes it is better to play on one position. If you look at other players, they just can focus on playing in their position and specialise in it."