Jurgen Klopp: Arsenal can win Champions League - if they avoid Bayern Munich
Borussia Dortmund manager Jurgen Klopp believes Arsenal can win the Champions League - if they avoid Bayern Munich.
Last Updated: 07/11/13 4:44pm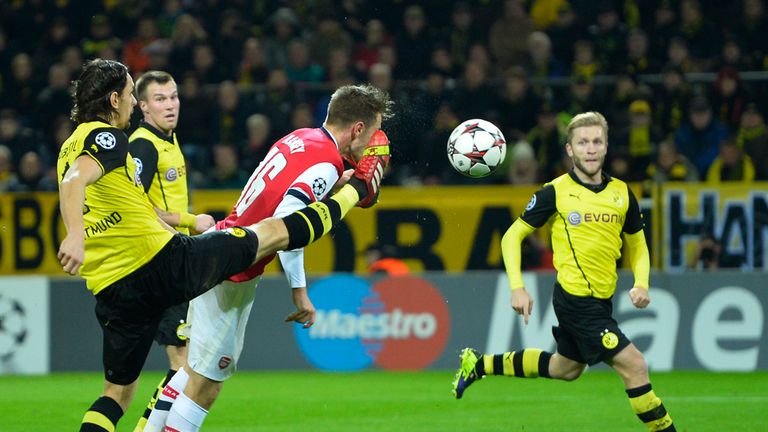 Klopp, who saw his side beaten 1-0 at home by the Gunners thanks to Aaron Ramsey's second-half strike, believes Arsene Wenger's side can go all the way.
However, the German thinks holders Bayern Munich present a huge threat to Arsenal's progress.
Klopp, who steered his side to the final last year, said: "Yes (Arsenal can win the Champions League). They are young, healthy and good technicians.
"They won a clever game tonight and could go to the final and win it - as long as they don't play against Bayern Munich."
Despite the defeat, Klopp feels Dortmund's qualification hopes remain in their own hands, with a home match against Napoli and a trip to bottom club Marseille the final two Group F fixtures.
While Klopp's well-drilled side did dominate for long spells as they looked for an eighth successive home Champions League win, having never lost against English opposition, the Germans were made to pay for not converting their chances when Ramsey nodded home a knockdown from Olivier Giroud on 62 minutes.
"We had 11 shots before they scored and sometimes it was like they were defending with four legs, but football is a game of results," he said.
"It is difficult after the game, but you have to look forward. It is a very strong group and the positive news tonight is that two wins and we will qualify."
Arsenal are in pole position to make it out of the group and manager Wenger hailed his side's intelligence after their win at the Westfalenstadion.
"This is a huge result. We had a united, focused performance, especially defensively.
"We had a lot of possession, but it was a bit sterile possession in the first half because we could not create chances.
"It was a question of being focused and intelligent, and not to make the first mistake, to wait for the moment where we could create openings in their defence. We did that.
"We had a difficult period at start of second half, but after we scored I felt we could have scored a second goal and we were less under pressure. Overall it's a huge win here."
Wenger continued: "We looked more stable defensively because we have experience in midfield not to lose the ball in stupid positions.
"Dortmund are especially dangerous when you lose the ball, and to counter that, you need maturity.
"If you have a very young team tonight you would be overrun and lose that game by a very high score. We look more stable defensively."
Next up for Arsenal it is Manchester United on Sunday and Sky Sports' Gary Neville believes the Gunners may have come of age.
"We've always stopped short of saying this is the 'real thing' with Arsenal as we've got to provide balance, but we can start now," Neville said.
"We've seen so many times in the last couple of years the same players disappoint and fall apart - but all the questions have been answered.
"They are going to Old Trafford on Sunday and if they come through that then you can say they've come through the period that everybody would say they would fade."
The former Manchester United defender added: "We've lambasted them at times over the last two years. But these are the same players - they're just performing to the standards. They've got to keep that back four fit and if they lose players there then they've got problems.
"But they are well drilled, have a good system and Mikel Arteta looks like he can play as a holding midfielder. It's a real achievement what they've done against Dortmund."
Watch Man United v Arsenal, 4pm, Sunday, Sky Sports 1.