Arsene Wenger says trip to Old Trafford pivotal for Arsenal Premier League challenge
Arsene Wenger will have a much better idea where Arsenal stand after Sunday's clash with Manchester United.
Last Updated: 08/11/13 11:23am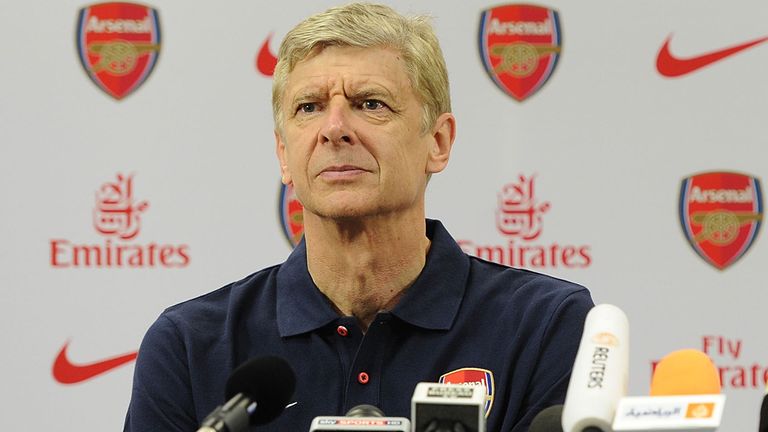 The Gunners go into the weekend five points clear at the top of the table, having won eight of their last nine league games, and Wenger says the game will allow him to make more of a judgement of their progress.
They have not enjoyed victory at Old Trafford since 2006 but he hopes to be able to end that run with a result that would cast United 11 points adrift as we approach a third of the way through the season.
"It is still one of the benchmarks of the season where you judge how strong you are," Wenger said. "People analyse everything, your behaviour, and draw conclusions after the game.
"It is still one of the big games where you can gain confidence and credit for good behaviour.
"We had periods where we did very well at Old Trafford but recently we have not done so well and this is a good opportunity to show we have improved. We can win there and that is our target."
Wayne Rooney said earlier in the week he would not be surprised to see Arsenal fade as the season progresses but admitted on Friday the north London side have made clear improvements this term.
"I think they've got some great players and you know they're a good team," Rooney said.
"I said the other day after the game it will be interesting to see if they can maintain that, certainly over the last six or seven years they've faded off. But they seem in a better place, they seem stronger so it will be interesting to see."
Wenger is not sure the England striker's assertion that Arsenal are likely to drop in form after the festive period is based on fact.
"Usually, I think, after Christmas we have been very strong," he added. "For the rest, the comments are the comments, and nobody knows what will happen in the future.
"What is important is that we trust our quality, that we show the resilience and the hunger to achieve what we can achieve. That is the most important."
Arsenal, with 22 goals this season, are the second-highest scorers in the Premier League but Wenger believes a much-improved defence has been a huge help in their flying start.
They are conceding less than a goal a game and Per Mertesacker and Laurent Koscielny have proved to be rocks at the heart of their defence.
He said: "We have made a lot of improvements at the back - but there is a lot to do.
"Mertesacker and Koscielny complement each other well but the team helps them as well."
And he played down talk that Aaron Ramsey's current form has lifted him into contention to be called one of the best players in the world - the Wales midfielder has 13 goals in all competitions in 2013-14 after never previously scoring more than four.
"I don't like this kind of conclusion. Aaron Ramsey is a very strong player and plays with a lot dedication, desire and focus to improve, and that is most important," he said.
"How much do I rate him? I think I have shown that in the past, when he was hugely criticised I always played him. That shows you how much I admire him and how much I think he is a great player."
Wenger also revealed that midfielders Matthieu Flamini and Jack Wilshere are both back in training and that he expects the former to be fit to face United.
"With Flamini I'm quite confident he'll be available - with Wilshere we'll see how he responds to his inflammation of the ankle," he said.
Watch Manchester United take on Arsenal at Old Trafford live on Sky Sports 1 on Super Sunday Hat-Trick - kick-off is at 4.10pm