Arsene Wenger: Manchester United v Arsenal game needs strong referee
Arsene Wenger has put the pressure on big match referee Michael Oliver ahead of Sunday's game at Old Trafford.
Last Updated: 10/11/13 4:12pm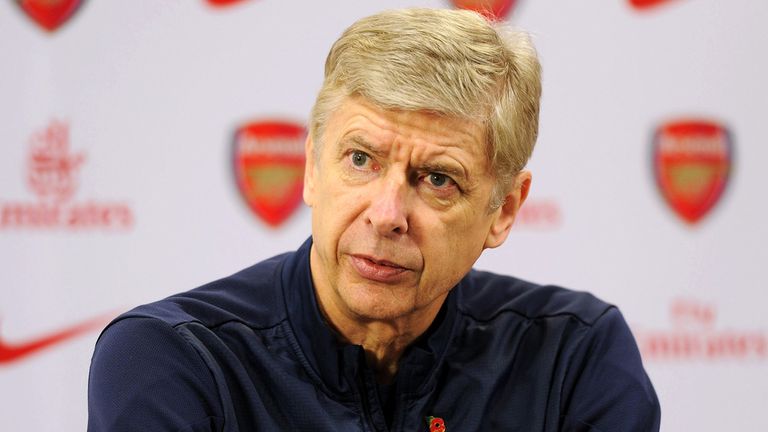 The Frenchman jokingly suggested that the absence of United's former boss Sir Alex Ferguson, might make it easier for away teams to get decisions at Old Trafford.
And, although he did not mention Oliver by name, he made it clear he will be monitoring the referee's performance very closely.
Asked what it will be like to play at Old Trafford without Ferguson in the opposing dugout, Wenger said: "That is a question you shouldn't ask me, but the referees."
And, regarding whether Ferguson's presence influenced decisions, the Arsenal boss remarked: "Every year there is a company who makes the table reasoned without the referees' mistakes, so check that."
Questioned about whether he thought things would be different with David Moyes now in charge at United, Wenger added: "No, no. I expect the referees to make the right decisions. I never, ever have preconceived ideas.
"There (at Old Trafford) pressure comes as well from the crowd, when they go for every ball and put the referee under pressure.
"It's down to the referee to make the right decisions, to protect the players and to give the free-kicks that you deserve."
Wenger keen to control game
Arsenal are five points clear at the top of the table and, fresh from a fine Champions League win at Borussia Dortmund, Wenger is optimistic ahead of Sunday.
"Yes, we believe we can get a result," he said. "We go there like we go everywhere, to control the game and to win the game.
"We still think the best way to win at Old Trafford is to control the game, which means take the ball, keep the ball and have more possession than they do.
"We are maybe a little less under pressure because we have a little advantage (in the table) but we have to use that in a positive way."
United head into Sunday's clash against leaders Arsenal playing catch-up, down in eighth place.
Signs of transition under Moyes are emerging, however, with the Champions League draw away to Real Sociedad making it eight games unbeaten in all competitions.
Wenger believes the former Everton boss is soon finding out just how demanding one of the sport's top jobs can be.
"He will be under more pressure than he was at Everton to deliver, certainly," said Wenger.
Arsenal will come up against former striker Robin van Persie once again and although it is more than a year since he sold the Dutchman to Sir Alex Ferguson for £24million, Wenger says it does not sit well with him to see the striker in United's kit.
"Of course it's strange because for me he is an Arsenal man," Wenger said.
"I took him when he was a very, very young player. We have gone together through very difficult periods and he became a world-class player and for me he is an Arsenal player."