Premier League: Arsene Wenger pleased with Arsenal's improved central defensive pairing
Arsene Wenger has paid tribute to Laurent Koscielny and Per Mertesacker for their contribution to Arsenal's form.
Last Updated: 09/11/13 1:46pm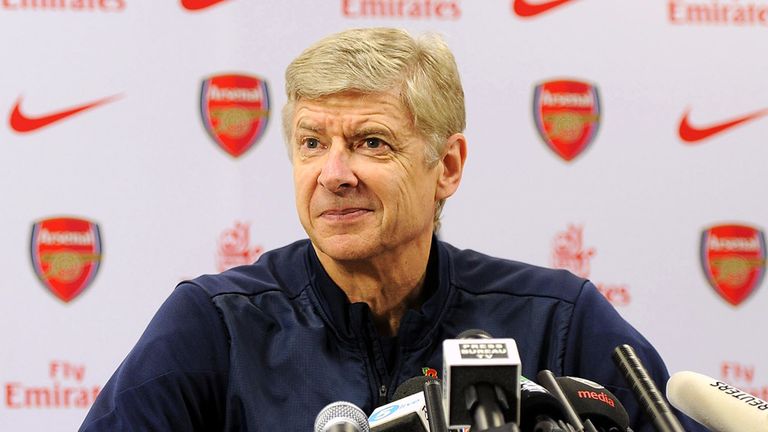 The Gunners head to Old Trafford on Sunday on the back of impressive clean sheets against Liverpool and Borussia Dortmund, and although their goals against record is not the best in the Premier League, their stability at the back has been an improvement on last season.
Mertesacker and Koscielny have proved difficult to beat and their form has been good enough to keep club captain Thomas Vermaelen on the bench.
And Wenger hopes they will continue to impress when Arsenal go in search of a first win at Old Trafford since 2006 in a game that brings an end to Super Sunday Hat-Trick on Sky Sports 1.
"We have had two clean sheets now in two big games and you never do that without a huge contribution from your centre-backs," Wenger said.
"It is a mixture of quality, being calm, confidence and not panicking in very heated situations. At the moment, they are at their peak in these kind of situations.
"There is now a little bit of an extra focus on defending, because we are naturally a team which is built with attacking players, so in the big games, these guys force a bit their natural tendency and so we maybe have a bit more of a defensive urgency.
"Their nature is to turn forwards, the likes of (Mesut) Ozil, (Santi) Cazorla, (Tomas) Rosicky, Ramsey - they all like to attack, but in the big games maybe they focus also on defending well so we can improve.
"The more a team progresses, it raises the expectation level, and the players have to live with that.
"But all the teams have to do that, and it is interesting as well because in some way it pushes the team to raise their level, and we do have the quality to do it."