Arsene Wenger says Arsenal's kids can match Utd's 'Class of 92'
Arsene Wenger says Arsenal's young players can be as good as Manchester United's 'Class of 92'.
Last Updated: 10/11/13 4:13pm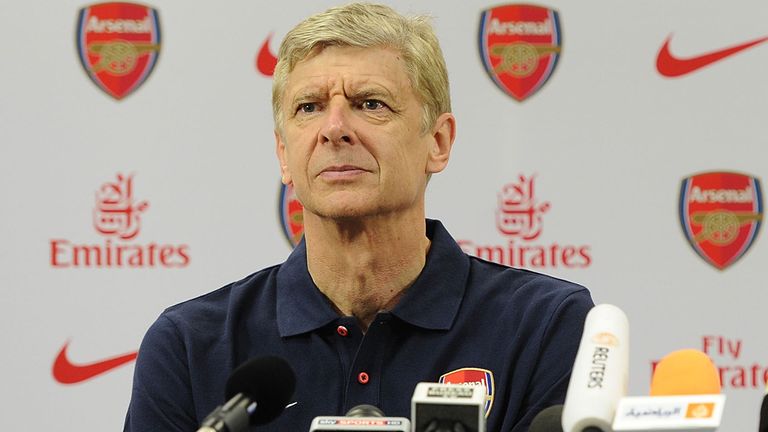 Wenger is confident the likes of Aaron Ramsey, Jack Wilshere, Theo Walcott, Alex Oxlade-Chamberlain, Kieran Gibbs and Wojciech Szczesny can help Arsenal win trophies.
The Gunners head to Old Trafford on Sunday looking to maintain a run that has seen them go five points clear at the top of the Premier league and on course for the knockout stages of the Champions League.
"United had an exceptional group - the two Neville brothers, David Beckham, Ryan Giggs, Paul Scholes, Nicky Butt, when you have six or seven who can play at that level, they are ready to fight for their club," said Wenger.
"I believe the sense of belonging is important, and it has certainly been a bit neglected in the modern game, but it is part of the culture of the club, that the club means something to you. That is important for the fans as well.
"We have today in the team Wojciech, who for me is an Arsenal player because he came here at 15 and has grown up here, Wilshere was 10 when he started.
"I would sign today that this group is as successful as Manchester United's group of players were.
"We have to show that and we have an opportunity to do that - no one can stop you if you have quality and attitude."
Arsenal are looking for their first win at Old Trafford since 2006 - and are out to exorcise a few demons after being thrashed 8-2 there two seasons ago.
Wenger said: "For me the big results have no real meaning. Why? Because it is
exceptional circumstance and never reflects the real quality between the two
teams.
"It is a humiliation because you cannot say you lose 8-2 and it is just three points.
"We lost four goals in the last 20 minutes, were down to 10 men, had played at Udinese three days before, so it was special circumstances.
"As a professional you know that, but you cannot say that publicly.
"You push it to one side. You never forget it, but of course you don't think that is the difference between the two teams."