Premier League: Wojciech Szczesny seeks response after Manchester United defeat
Goalkeeper Wojciech Szczesny admits Arsenal must respond swiftly to Sunday's defeat by title rivals Manchester United.
Last Updated: 11/11/13 3:36pm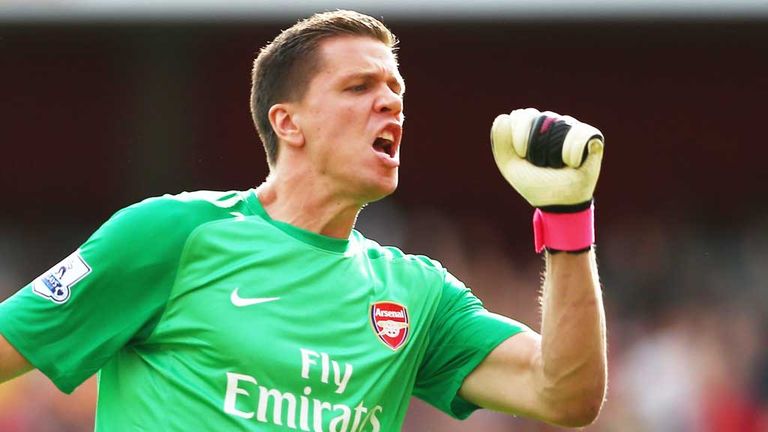 The Gunners failed to stretch their lead at the top of the Premier League after Robin van Persie's header sealed a 1-0 win for United at Old Trafford.
Rivals Manchester City and Chelsea also slipped up at the weekend, and the Gunners remain two points clear at the summit as they head into the international break.
Goalkeeper Szczesny was frustrated that Arsenal could not continue their fine recent form over the weekend, and admits they cannot afford another setback in their next match against Southampton at the Emirates.
He told Arsenal Player: "I thought it was a very even game and it looked like a 0-0 to me.
"It probably would have been a fair result but they scored a good goal from a set-piece so we'll take that on the chin and try to move on.
"I think we controlled the game in the second half. But they set up to defend more than anything else and we were always going to take control of the game with our passing. I don't think there were a lot of chances in the whole 90 minutes, but they took the one they had and that made the difference.
"Of course [we're still in a good position]. The other teams dropped points this week as well but we didn't want to drop three points - we came here for all of them and we're disappointed about not getting it.
"It's important for us to get back to winning ways as quickly as we can and make the difference at the top of the table bigger."
Arsenal were not helped by a virus that swept through the Gunners camp last week.
But manager Arsene Wenger refused to use that as an excuse for the defeat.
"A virus can happen the whole season, it doesn't mean you have to lose the game," said Wenger.
"The players declared themselves fit. When they play, they play. There is no excuse."
Instead, Wenger cited a nervousness in his team during the crucial opening stages for handing United an initiative they could not wrest back despite dominating territorially in the second half.
"Until the end we looked like we can score but we lacked that quality in our final ball and the sharpness maybe to finish crosses," said the Frenchman.
With Chelsea needing an injury-time equaliser to claim a point at home to West Brom, Tottenham losing on home soil to Newcastle and Manchester City suffering yet another away defeat, this time at Sunderland, the Premier League is turning into the most unpredictable of affairs.
This inconsistency, coupled with Southampton's presence in a Champions League slot has led to accusations of a sub-standard competition.
It is not a view Wenger agrees with.
"I don't know about that," he said. "Southampton are close to the top, but they have three players in the England squad.
"In addition, Luke Shaw is not far away and they say (Nathanial) Clyne is the same.
"Maybe the whole quality of the Premier League has gone up.
"I don't think necessarily players like Van Persie are not as good as last season or two seasons ago."