Premier League: Arsenal have Theo Walcott in squad to face Southampton
Arsenal boss Arsene Wenger has confirmed Theo Walcott is available to tackle his former club Southampton this weekend.
Last Updated: 23/11/13 2:10pm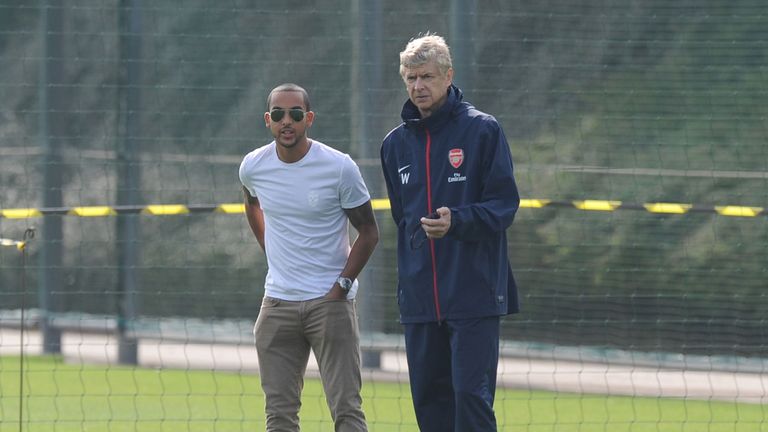 The England winger has now recovered after spending two months out following minor abdominal surgery.
Gunners boss Arsene Wenger hopes the return to action of the pacy forward will give his team an added dimension as they look to respond to defeat at Manchester United to remain top of the Premier League.
"Theo will be back for Saturday in the squad," he told the club's official website.
"He's completely fit again. He has not played for a long time, of course, he has not played even a reserve team game, but I will put him in the squad on Saturday."
Wenger added: "Of course you miss a player like Theo Walcott.
"Strikers who get behind the defenders have a very important quality and Theo [Walcott] has that quality.
"Theo had a good start to the season, he scored goals, he provided chances and had assists.
"He can always give you a different option in the game and that is of course vital."
Wenger hopes Walcott can offer support to lone frontman Olivier Giroud and record signing Mesut Ozil, who was rested for Germany's internationals with Italy and then at Wembley following a sickness bug.
"You always want to have a perfect balance (in attack), and if you look at our results our balance was not too bad," he said.
"But Theo has different qualities to other players and I am very pleased that he's back."
Czech midfielder Tomas Rosicky could also feature against the high-flying Saints following his illness, while German forward Lukas Podolski is closing in on a return from a hamstring injury which has sidelined him since the end of August.
"He is doing fitness training on the pitch and starts to do some ball work too," said Wenger. "He still needs two or three weeks before we see him on the pitch for Arsenal."
England midfielder Alex Oxlade-Chamberlain, meanwhile, is "at least one month" away from a return after knee ligament damage, while France Under-21 forward Yaya Sanogo could be fit from his back problem in January.