Transfer news: Arsenal defender Per Mertesacker in talks over new deal
Per Mertesacker is happy to have opened talks with Arsenal over a new contract with the Premier League club.
Last Updated: 28/11/13 8:42am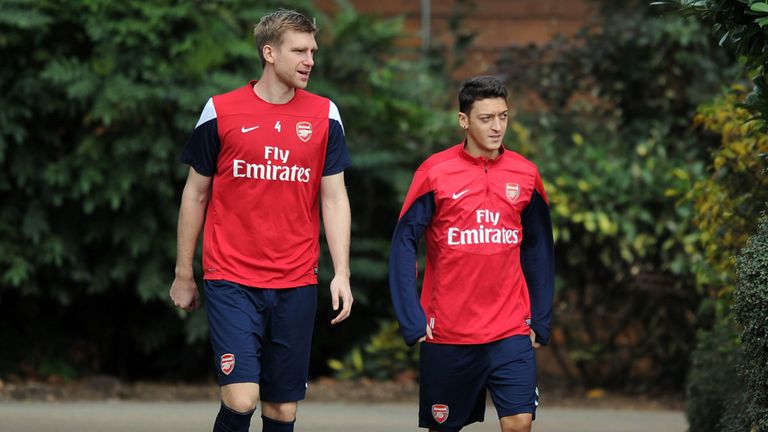 The Germany international is enjoying his best run of form since joining the Gunners in 2011.
His current deal is due to expire in 2015 and he is now in discussions to extend his Emirates Stadium stay.
"I am very delighted here with the club, especially after the first year that was tough for me, a very tough challenge," Mertesacker said.
"The boss always trusted me in a special way. So I think it is a little reward that we talk a bit on things, because I've one and a half years left.
"Overall there's no rush but it seems to be that some guys are delighted with my performance at the moment. I am pleased with the situation."
Mertesacker has formed a partnership with Laurent Koscielny, which has seen Thomas Vermaelen relegated to the bench.
"I missed completely the pre-season [in 2011-12] so it was really hard when the transfer window shut and I had to play straight away, and it took me a while to respond to that level," he admitted.
"The manager always trusted me, said 'you are intelligent enough to cope with problems'. It took time to settle down."
Mertesacker's German compatriot Mesut Ozil has made an excellent start to his own Arsenal career and the defender has been impressed.
"He is making good progress," said the defender.
"He is in good form, you can see that. Tonight [Tuesday's 2-0 win over Marseilles] he was always a threat in every second. He never gave up, despite the penalty that he missed.
"We are delighted with him, especially in the transition from defence to offence. He is in good form and I think we will see more.
"He gets himself into good positions so the goals will come for sure.
"He's always a threat and we're delighted with him."
Mertesacker believes that Ozil's play has helped the whole team.
"He moves well between the lines, so it's always difficult to defend against him. When the centre-back comes out with him there's always space for others to go into.
"Overall he is the member of our team who helps us to create more chances, and to make the opposition more vulnerable."