Arsene Wenger satisfied with five-point lead after Arsenal's draw with Everton
Arsene Wenger was happy to have five points between Arsenal and their nearest rivals after a 1-1 draw with Everton.
Last Updated: 09/12/13 7:42am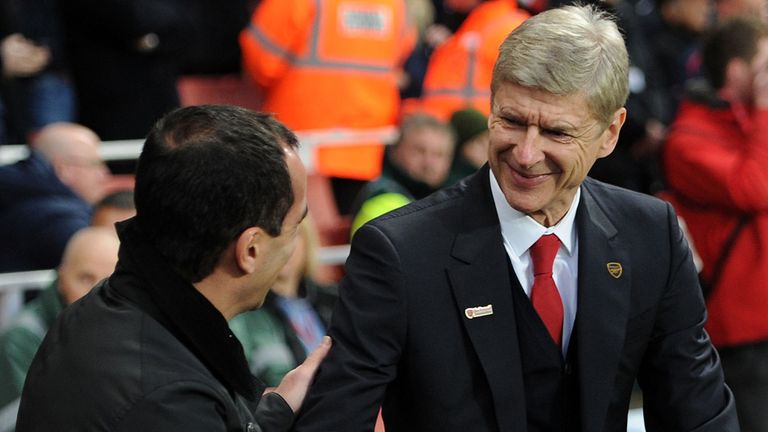 The Gunners had an opportunity to open up a seven-point lead at the top of the Premier League after seeing a number of their major rivals slip up on Saturday, but they had to settle for a draw from their home clash with Roberto Martinez's side.
Mesut Ozil broke the deadlock with just ten minutes to go but Everton quickly equalised thanks to Gerard Deulofeu, and although Wenger was disappointed not to hold on for victory he acknowledged that Everton had performed well.
"It was a very intense game and you have to say Everton were a very good side today," Wenger told Sky Sports.
"They gave us a difficult time, especially at the start of the game in the first half an hour.
"After that we had better control in the final 15 minutes of the first half and the second half, but they remained always dangerous on counter-attacks.
"The regret we have tonight is of course that we were 1-0 and they have come back to 1-1, but overall it's a point and you can say it is a logical result."
Liverpool are second in the table and Chelsea third, with Manchester City a point further back in fourth ahead of Arsenal's trip to the Etihad Stadium next Saturday.
Wenger is satisfied with a five-point gap at this stage of the season but will only concentrate on one game at a time.
"Ideally we wanted seven but at least we've got five," he said.
"It gives a little bit of a cushion to play in a serene way against the other teams.
"Now we go to the Champions League so let us focus on that. It is important that we recover.
"We have a difficult task in Naples and then go to Man City."