Arsenal's Mikel Arteta criticises schedule ahead of Manchester City clash
Arsenal's Mikel Arteta has laid into the fixture scheduling ahead of Saturday's showdown with Manchester City.
Last Updated: 13/12/13 1:10pm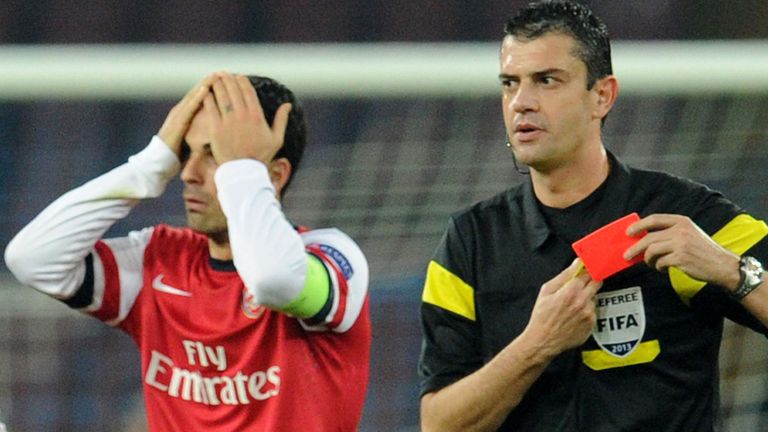 Arsene Wenger's squad have little time for recuperation following their midweek Champions League 2-0 defeat at Napoli as they attempt to cement their place at the Premier League summit with a tricky visit to the Etihad Stadium.
"The mood will be fine, but the recovery time is very tight," said the Spaniard.
"I don't understand why we play Sunday afternoon, then in Naples on Wednesday, getting back to London at four o'clock in the morning (on Thursday) and then we are going to play again on Saturday morning in Manchester.
"However, there is not much we can do, so we just have to prepare well and be ready for it because they will be ready for us as they rested several players for their European game on Tuesday night.
"However, there can be no excuses, we have to be ready, we want to win there and have to be prepared. We know it can be a big statement if we get a good result there, so that is what we want."
The Gunners missed out on top spot in their Champions League group and with it seeding for the knockout stage.
Arsenal were on the back foot for long periods in their loss in Italy after being rocked by Arteta's sending off in the second half and, with the draw on Monday, they are now set to face Real Madrid, Paris St Germain, Bayern Munich, Atletico Madrid or Barcelona.
Arteta remains upbeat though and added: "You are looking at the top teams who have won their group, so it is tough, but let's see what happens.
"I am sure, though, that they will not be happy to play against us as well. On our day, we have shown that we can compete with any team in Europe, but you are making it tougher for yourself (by finishing second).
"However, if someone had said before that you are going to be through, we would be happy with that, but with the position we were in, we wanted to finish first.
"Now we know we will face some really difficult opposition in the next round so it is disappointing to lose the game, but at least we are through and can take some positives because it was a really tough group."
England forward Theo Walcott could be in contention to start against City, while full-back Bacary Sagna may also be fit following his hamstring problem.
German forward Lukas Podolski, meanwhile, stayed in London this week to step up his rehabilitation after a torn hamstring sidelined him since the second leg of the Champions League qualifier against Fenerbahce in late August.