Arsenal boss Arsene Wenger happy with lunchtime kick-off against Manchester City
Arsene Wenger insists he will not use the timing of Arsenal's Premier League game at Manchester City as an excuse.
Last Updated: 14/12/13 12:25pm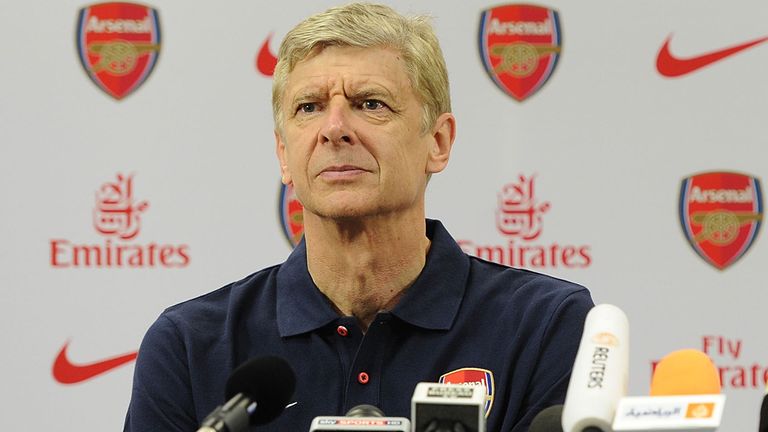 Wenger's side go into the Saturday lunchtime game five points clear at the top of the table knowing they will face a tough test of their title credentials at the Etihad Stadium.
Arsenal midfielder Mikel Arteta has voiced his concerns at having to play again so soon after their 2-0 defeat away to Napoli in the Champions League on Wednesday night.
The midfielder said: "The mood will be fine, but the recovery time is very tight. I don't understand why we play Sunday afternoon, then in Naples on Wednesday, getting back to London at four o'clock in the morning (on Thursday) and then we are going to play again on Saturday morning in Manchester.
"However, there is not much we can do, so we just have to prepare well and be ready for it because they will be ready for us as they rested several players for their European game on Tuesday night.
"However, there can be no excuses, we have to be ready, we want to win there and have to be prepared. We know it can be a big statement if we get a good result there, so that is what we want."
But Wenger insists the kick off time could work to their favour, with a positive result in the lunchtime fixture helping to pile pressure on the chasing pack.
"I think we have an opportunity to make the difference by playing first tomorrow," he said.
"I don't complain about the timing of the fixtures, we don't use it as an excuse.
"When you play Wednesday night and Saturday morning you cannot do a lot in training. It's mostly recovery."
Wenger also revealed he would not trade his squad with that of City, defending the club's traditionally prudent stance and insisting Arsenal have a more versatile side than their opponents.
"City has a strong squad, I don't deny that, but when I look at my squad I don't envy them," he added.
"We have more creative players and we are more versatile. It's easier for me to rotate.
"City have gone a different way. What our policy shows is we have consistency in our attitude and results.
"We respect our income and expenses but we have better resources now."
As for the game itself, Wenger revealed that defender Bacary Sagna will undergo a fitness test to assess his hamstring injury.
Striker Lukas Podolski is available after recovering from a similar problem but he may not be risked, while there was a positive update on Theo Walcott following his recent return to action after a stomach injury.
"Sagna will have a test today. Podolski is available but I feel he is a bit short," said Wenger.
"It took Walcott a while to get back to full power but he is looking stronger this week."
Wenger believes the pressure is on Manchester City, adding: "Let's not forget as well that if you are in City's position, if they lose they are nine points behind, so they have more negative pressure than we have.
"We have a positive pressure that we can make a big difference with them, so let's look at it like that."
Wenger has urged his side to remain mentally strong as they approach another crucial match in the title race.
He said: "It is a game where we can make a difference with everybody. What we want to do is just to be ourselves with our quality, with our spirit, with our attitude. We want to get a result.
"I think we have an opportunity to make the difference with everybody else tomorrow morning early. We play first and we have the opportunity to go from five to eight and that's fantastic. We have to look at it like that.
"I don't deny that every game has a vital importance because of the inference on confidence and the belief of the team.
"I believe what we just want from your team is to show during this period a huge level of commitment and belief. That can make a massive difference."