Arsene Wenger insists all the pressure is on Manchester City
Arsenal boss Arsene Wenger insists the pressure is on Manchester City ahead of Saturday's lunchtime kick-off.
Last Updated: 13/12/13 5:02pm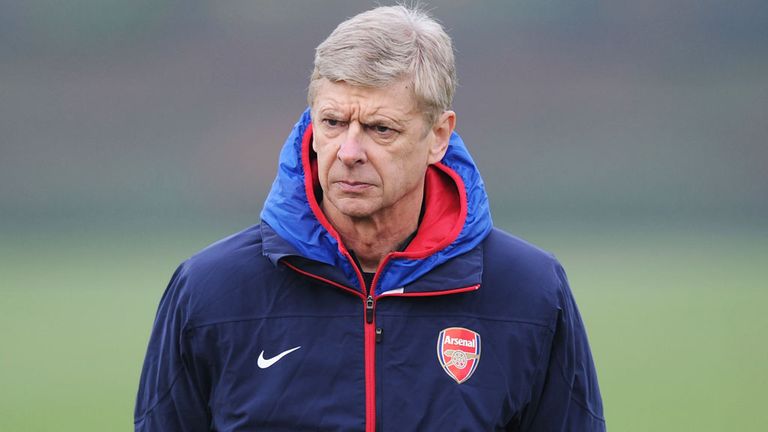 The Gunners have been handed a lunchtime kick-off, just a few days after a tough Champions League trip to Napoli, and midfielder Mikel Arteta has raised concerns about the hectic schedule.
City had an extra day to recover, but Wenger is looking at the fixture in a positive light and hopes to steal a march on Arsenal's rivals in the Premier League title race.
A win will stretch the Gunners' lead to eight points at the top of the table, nine clear of City, and Wenger believes the Manchester side can ill afford to slip up at the Etihad.
"It is important that we believe in ourselves anyway, no matter what happens," said the Frenchman.
"Let's not forget as well that if you are in City's position. If they lose they are nine points behind, so they have more negative pressure than we have.
"We have a positive pressure that we can make a big difference with them, so let's look at it like that."
Gerard Deulofeu's late leveller for Everton denied Arsenal a crucial win on Sunday and the north Londoners defended nervously in the midweek 2-0 defeat in Naples.
Wenger has urged his side to remain mentally strong as they approach another crucial match in the title race.
"It is a game where we can make a difference with everybody. What we want to do is just to be ourselves with our quality, with our spirit, with our attitude. We want to get a result.
"I think we have an opportunity to make the difference with everybody else tomorrow morning early. We play first and we have the opportunity to go from five to eight and that's fantastic. We have to look at it like that.
"I don't deny that every game has a vital importance because of the inference on confidence and the belief of the team.
"I believe what we just want from your team is to show during this period a huge level of commitment and belief. That can make a massive difference."