Arsene Wenger says mistakes were to blame for Arsenal's 6-3 defeat to Man City
Arsene Wenger felt his Arsenal side could have taken something from their 6-3 loss at Manchester City.
Last Updated: 15/12/13 8:18am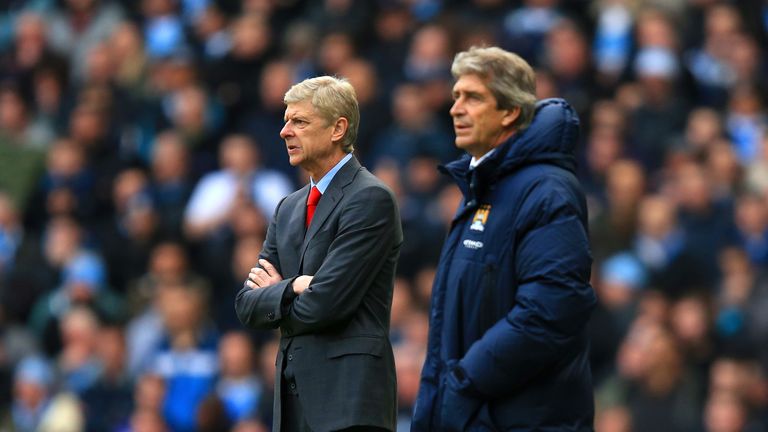 But the Frenchman admits their performance was error-strewn and that was the reason behind them conceding so many.
"We had the best defence in the league but we conceded many goals," Wenger admitted.
"Honestly, we could have scored at least six today as well. It was a very open game, we made too mistakes though.
"Our strength until today was our defensive strength but that went today."
Wenger insists that they could have taken something from the game, and added that he thinks both Everton and Southampton were as good as City.
"City were not unbeatable today," he insisted.
"City are one of the teams to beat this season but not more so than other teams we have played this season.
"We've played Everton who are as good as City. We've played Southampton who are as good as City."
In a moment of controversy, Arsenal midfielder Jack Wilshere appeared to make a crude gesture in the direction of City fans.
The matter could be looked at by the Football Association.
Wenger said: "I didn't see that. I don't know if he did it. If he did it and is banned, we will have to accept it."
Playmaker Mesut Ozil also appeared to head for the dressing room straight after the final whistle without joining his team-mates to applaud the visiting fans.
An argument with team-mate and fellow German Per Mertesacker reportedly ensued but Wenger played down the incident.
He said: "That is the Germans, they will sort that out between themselves. Don't worry."
Ozil later felt compelled to apologise to supporters, writing on his Facebook page: "Sorry I didn't thank the fans at the end of the game! You have been brilliant to me and I know you had travelled a long way and spent your money to support us. I was upset with the result and know I should have come to you to say 'thank you' and I know it is a big Arsenal tradition win, lose or draw."
Arsenal's miserable day was compounded by a severely gashed knee suffered by Laurent Koscielny as he tried to prevent City's second goal.
The centre-half was replaced by Thomas Vermaelen and Wenger said: "He will be out for a while, but for how long I don't know."